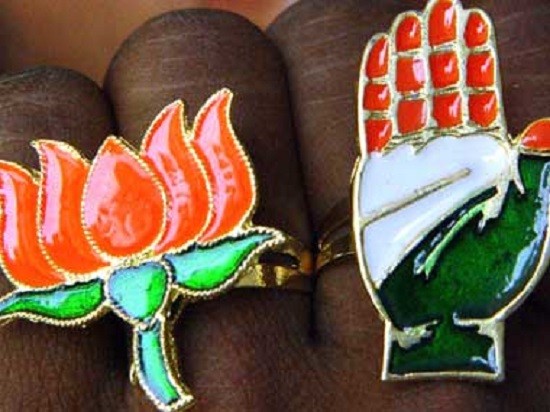 Since their disastrous defeat in the 2014 Lok Sabha election, the Congress party has been investigating all angles to fathom the reason why the whole country rejected one of its oldest national parties and chose the Bhartiya Janata Party (BJP).
And, in one of the most bizarre explanations given by Congress for its defeat in the general elections, the blame has been pinned on Israel's secret service Mossad.
The Congress Working Committee held a day-long meeting on Monday, to discuss the reasons that led to the Congress' defeat in the elections. And after that, Congress general secretary Mohan Prakash reportedly told the media that it was Mossad, which led to the downfall of Congress in the elections.
DNA reported that Prakash presented his argument in the CWC meeting, stating that the Mossad has been working towards bringing down the UPA government since 2009.
And according to Prakash, the reason why the Mossad wanted the fall of Congress was mainly due to the limited political interaction between UPA and Israel. Hence, Mossad wanted to oust the Congress and bring in the BJP government, with whom it had earlier enjoyed a much cordial relation.
While it is true that Israel had increased its closeness to India during the time of the previous NDA government, the relationship between the two countries has always remained cordial.
As of July 2013, the India-Israel trade has crossed $6 billion a year, far surpassing the $200 million level it was at in 1992, which is a clear sign that the relation between the two countries have only matured, and not turned sour as the Congress leader noted.
But then the introspection continues, and many in Congress feel 'the dignified silence' Prime Minister Manmohan Singh led to the eventual downfall of Congress in the election.
Outgoing union minister Kamal Nath took a dig at Singh and stated that the Prime Minister should have been more vocal when the government came under attack for various scams.
Similarly Ravi Naik, a North Goa Congress candidate who lost his seat in the election had also stressed that his party would have won had Singh been more expressive of the achievements of the UPA government in the last 10 years.
In short, several Congress leaders are of the opinion that the outgoing PM should have been able to assert his authority, while his government was facing charges of corruption.
Several leaders also went out after Dentsu, a Japanese communication agency, which was paid at least ₹600 crore, to handle the PR and imaging building for the INC and Rahul Gandhi.
There is a feeling that the failure of the agency to effectively build the image of Congress and its PM nominee Gandhi resulted in the poll debacle. The general view among Congress leaders is that the campaigns were quite 'spineless'.