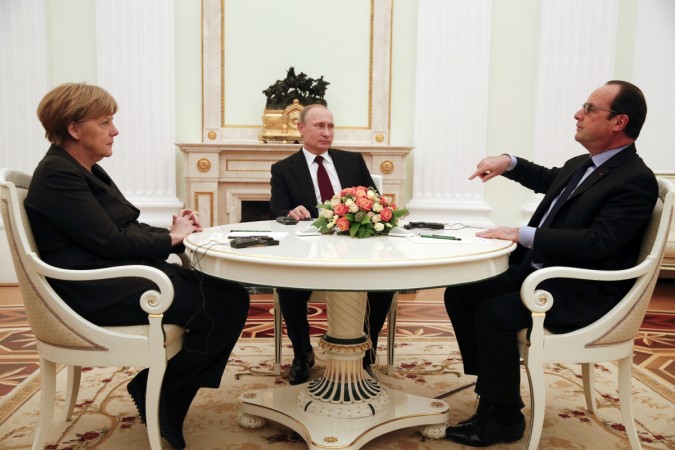 The closed-door talks between the leaders of France, Germany and Russia on ending the conflict in Ukraine were reportedly "constructive and substantive". However, US diplomats and critics have expressed doubts over Putin's sincerity and if it was possible to resolve the conflict in a day.
Russia's President Vladimir Putin, Germany's Chancellor Angela Merkel and France's President François Hollande met for about four hours in Moscow. The three leaders agreed to draft a plan that will most likely implement the terms of the broken Minsk truce pact, while also including proposals from Ukraine's President Petro Poroshenko.
Reports state that the three leaders will discuss the draft with the President of Ukraine over the telephone on Sunday.
"On the basis of proposals made by the French President and German Chancellor, there is currently ongoing joint work to prepare the text of a possible joint document on the implementation of the Minsk agreements – a document that would include proposals made by Ukrainian President Poroshenko and proposals put forward today by Russian President Putin," Kremlin spokesman Dmitry Peskov told reporters after the meeting.
The spokesman further explained that after the document is prepared, it will be presented to both sides in for their approval.
Although the talks were largely characterised by Kremlin as "constructive, informative and substantive," western officials were quick to express their skepticism over Putin's sincerity. Even before the Moscow meeting, Vice President Joe Biden accused Russia of trying to "redraw the map of Europe".
"President Putin continues to call for new peace plans as his troops roll through Ukrainian countryside. And he absolutely ignores every agreement that his country has signed in the past and he has signed recently, including Minsk," Biden said in Brussels.
According to national security adviser Susan Rice, the German and French leaders were not out there "unilaterally cutting a deal with Putin at Ukraine's expense."
"That is a misperception, and I think we need to see how this evolves," she said in the wake of western officials becoming increasingly wary about the volatile situation in Eastern Ukraine.
A September ceasefire signed in Minsk, Belarus, failed to end the violence in the region. The west holds Russia entirely responsible for the failure of the pact. The western alliance believes that the rebels have been able to seize more ground in the area because of Moscow's support.