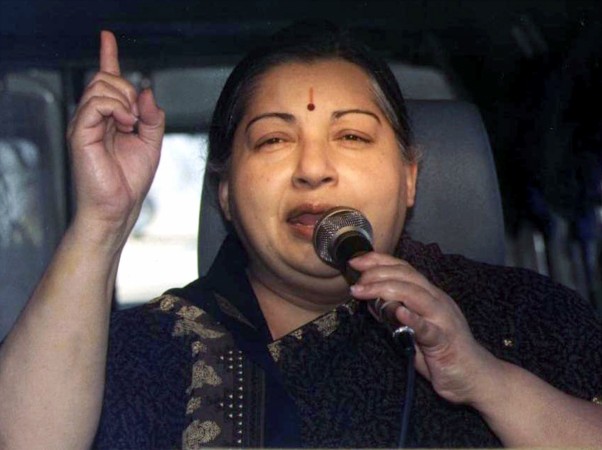 Former Tamil Nadu Chief Minister and prisoner number 4702, J Jayalalithaa, spent her third day in Bangalore's Parappana Agrahara Central Prison on Monday after being convicted for four years in an assets case on 27 September.
Jayalalithaa, who has been lodged in a single cell with two chairs, a table, a cot, a fan and a television set, started her morning at 5:30am with some limewater followed by a morning walk in the jail premises.
Later, she read five newspapers in two different languages — English and Tamil — and had idli, vada and sambar for her breakfast, brought by her aide Veera Perumal, after she went through a medical check-up, The Times of India reported.
However, by afternoon the 66-year-old diabetic started feeling uneasy. Her eyesight began to blur and her sugar levels increased, following which she had to be admitted to prison hospital for medical tests and treatment. Later in the day, she was shifted back to the jail.
"O Paneerselvam brought her medicines, when Jayalalithaa said she was feeling uneasy. Doctors checked on her. If her health deteriorates, she will be shifted to Jayadeva Hospital," an official told India Today.
After a brief check-up, she was shifted back to her cell, where she had her dinner. "Jayalalithaa was served ragi (malt) ball, plain rice, sambar and curd rice with pickle last night," said a prison official.
The jailed former CM is yet to decide on what her daily job in the prison would be for the next four years. Unlike the others who wear prison uniform during their jail term, Jayalalithaa was reportedly seen in her sari.
Though it is still unclear as to when will she adapt to prison's uniform rules, there are chances that she'll be exempted from working in the tailoring, cutting vegetables or rolling incense sticks owing to her health concerns.
Former DG & IGP and chief of Karnataka prisons ST Ramesh said that she is not being given any special treatment. "The law does not differentiate between people. There's no special provision for VIPs. If a prisoner wants outside food or wants to be treated at a private hospital and or exclusive meeting with visitors, he or she should obtain the court's permission," Ramesh said.