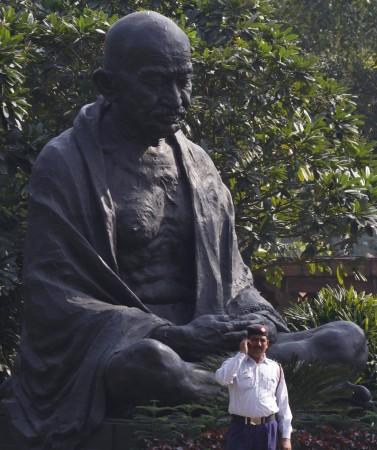 Hindus in the U.S. have been shocked by the proxy baptism of the Indian peace icon and father of the nation Mahatama Gandhi by the Church of Jesus Christ of Latter-day Saints (LDS), headquartered in Salt Lake City, U.S.
In a statement, Rajan Zed, President of Universal Society of Hinduism, said on Wednesday that "it was appalling to note that Gandhi, who lived his life as a Hindu and was cremated by Hindu traditions, had been reportedly baptized by proxy by LDS. It was insensitive and hurtful to the feelings of about one billion Hindus spread worldwide."
The matter came to light when an independent researcher, Helen Radkey of Salt Lake City, emailed Zed some pages from FamilySearch, genealogy organization, which showed Mohandas Karamchand Gandhi (Person Identifier LHTR-62Z; born Oct. 2, 1869 in Porbandar & died Jan. 30, 1948, in New Delhi) as baptized on March 27, 1996, at Salt Lake City Utah Temple.
The "Confirmation" of baptism was completed on Nov. 17, 2007, at a Sao Paulo, Brazil, Temple, the "Initiatory" was completed on Feb. 4, 2009, at a temple in Sao Paulo, Brazil, and "Endowment" was completed on Oct. 2, 1996, at Salt Lake City Utah Temple. The email also lists names of Gandhi's siblings, parents and children, said the report.
FamilySearch claims to be the largest genealogy organization in the world and runs a Family History Library in Salt Lake City.
The researcher said that she looked up this record on Feb. 16 but it had since disappeared and was no longer available in the database.
Person Identifier code LHTR-62Z pulled up as "Unknown Name." It was unusual for a record to vanish, she added.
Emails sent by Zed addressed to the LDS President Thomas S. Monson on Feb. 24 have remained unanswered till now. In this "information request," Zed asked whether it was a fact that Gandhi had been baptized by proxy by LDS, how many other deceased Hindus had been baptized by proxy without the will/request of their living relatives, was it the current/past LDS policy to baptize Hindu ancestors without the will/request of the living relatives and would this policy continue in future too.
"After the recent news of posthumous baptizing of Jewish rights advocate Simon Wiesenthal' s parents, prominent Jewish victim Anne Frank (Diary of a Young Girl) and now Mahatma Gandhi reports, we were highly concerned and wonder how many of our ancestors had been baptized by LDS without our will," Rajan Zed argued.
Zed further said that Monson should himself apologize for this and explain how this happened.
"Monson should also come-out with detailed report on how many Hindus had been baptized without the will or request of their living relatives. Proxy baptism of our ancestors, who lived and died as Hindus, was simply not acceptable" he added.
If it was just an "accident," then LDS needs to come-up with a mechanism and some "effective" safeguards so that mistakes, errors, breaches and misunderstandings do not happen in the future in the area of proxy baptisms involving non-LDS ancestors, Zed stated.
According to reports, Catholics had also objected against such baptism of their members, and even Republican American presidential frontrunner Mitt Romney's atheist father-in-law Edward Davies was posthumously baptized.
Official LDS website says that the foundation of the doctrine of baptism for the dead comes from latter-day revelation through Prophet Joseph Smith:
"By standing in as proxy for someone who has died - often one of his or her own ancestors - a Church member may be baptized on behalf of that deceased person...Lord does not damn those people who, through no fault of their own, never had the opportunity for baptism. He has therefore authorized baptisms to be performed by proxy for them...The validity of a baptism for the dead depends on the deceased person accepting it and choosing to accept and follow the Savior while residing in the spirit world."
Baptisms for the dead are performed only in temples because of the sacredness involved and the ceremony reportedly involves immersion in water dressed in white clothing.
According to LDS sources, Jesus Christ is the head of The Church of Jesus Christ of Latter-day Saints and the church has been restored by God through Joseph Smith (1805-44). One of the fastest growing churches, LDS is led by 15 Apostles, including Monson who is also considered a prophet.