At a time when so much has been talked about the cow in India, including the supposed health benefits its urine gives, Toyota has said it will use bio-waste including cowdung to extract large quantities of zero-emission hydrogen fuel to power more vehicles in future.
The Japanese carmaker, which makes hydrogen cars, announced at the Los Angeles Auto Show 2017 that it would "build the world's first megawatt-scale carbonate fuel cell power generation plant with a hydrogen fueling station to support its operations at the Port of Long Beach."
The Tri-Gen refinery facility will use bio-waste from California farms, cattle excreta, including cow dungs, and other waste materials to generate water, electricity and hydrogen.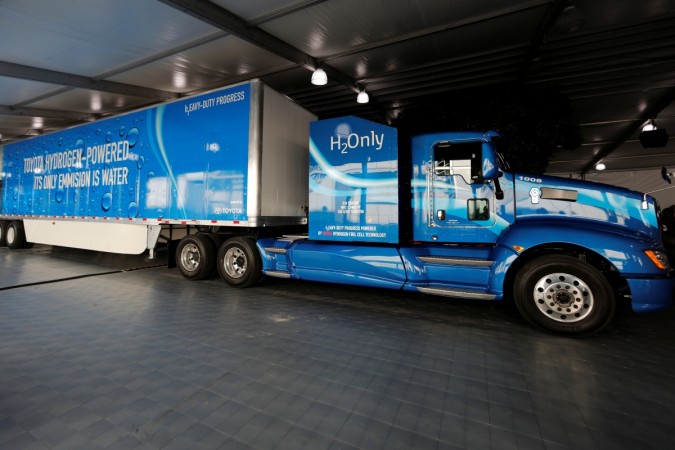 The Tri-Gen facility, which will be 100-percent renewal-based, is expected to generate about 2.35 megawatts of electricity and 1.2 tons of hydrogen per day once it becomes operational in 2020. That is enough to power the equivalent of about 2,350 average-sized homes and 1,500 vehicles daily.
"For more than 20 years, Toyota has been leading the development of fuel cell technology because we understand the tremendous potential to reduce emissions and improve society," said Doug Murtha, group vice-president of Strategic Planning at Toyota, in a statement.
"Tri-Gen is a major step forward for sustainable mobility and a key accomplishment of our 2050 Environmental Challenge to achieve net zero CO2 emissions from our operations."
Toyota is one of the few carmakers (other companies being Honda, Hyundai and Mercedes-Benz) that make hydrogen-fuel vehicles. It currently sells the Mirai hydrogen fuel cell sedan. The heavy-duty hydrogen fuel cell class 8 truck, known as Project Portal, is under development.
There are curently just 31 hydrogen fueling stations in California, but the arrival of the new heavy-duty trucks and more sales of hydrogen-fuelled cars will lead to higher demand in such stations.