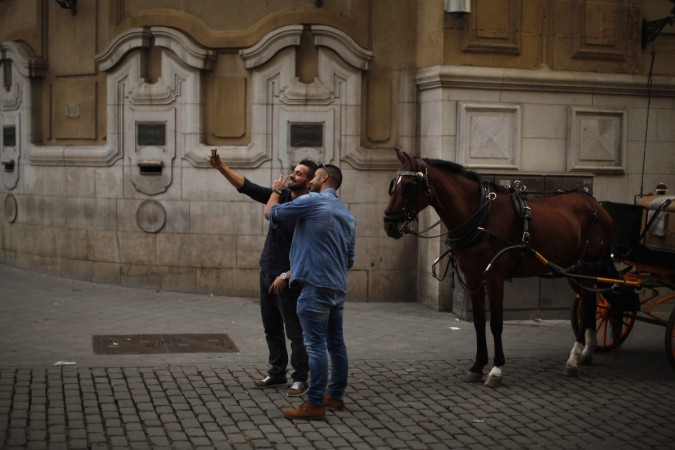 The "selfie economy" driven by a strong desire to look good in "selfies" has led scores of people across the United States to opt for plastic surgery.
Results from a survey conducted by the American Academy of Facial Plastic and Reconstructive Surgery (AAFPRS) on 2,700 members revealed that one in every three persons reported an increase in requests for procedures by patients who wished to improve their pictures on social networking sites. The results further showed that there was an increase of 10 percent in rhinoplasty or nose jobs in 2013 as compared to the previous year, while 7 percent surge in hair transplants and 6 percent in eyelid surgery, The Week reports.
"There has been a 25 percent increase over the past year and a half to two years. That is very significant. They come in with their iPhones and show me pictures. Selfies are just getting to be so crazy," said Dr. Sam Rizk, a Manhattan-based plastic surgeon.
Jennifer Reynolds, a dental hygienist, had always been very sensitive about her looks and never took a selfie. In fact, when others used to tag her in their photographs on the social media, she used to feel uncomfortable because she thought she did not look good.
The 34-year-old woman finally opted for a plastic surgery and is now always ready to click a selfie. "I definitely feel more comfortable right now with my looks. If I need to take a selfie, without a doubt, I would have no problem," Reynolds explained, says Reuters.
The popularity of selfie has made people more concerned about their looks, leading to a sudden surge in the income for plastic surgeons and makeup artists.
Increasing indulgence in smartphones and social media has allowed the 'selfie' phenomenon to grow. Be it the Prime Minister of a country or a Hollywood star, they all love to take a quick selfie.
For instance, remember the very-famous selfie posted on Twitter by comedian Ellen DeGenres that had many Hollywood A-list stars at the Academy Awards 2014? It went viral on the Internet in no time.
Another selfie that went viral involved international politicians. Danish Prime Minister Helle Thorning-Schmidt clicked a selfie with U.S. President Barack Obama and British Prime Minister David Cameron at Nelson Mandela's memorial service.
Referring to the phenomenon, AAFPRS President Edward Farrior stated in a press release: "Social platforms like Instagram, Snapchat and the iPhone app Selfie.im, which are solely image based, force patients to hold a microscope up to their own image and often look at it with a more self-critical eye than ever before. These images are often the first impressions young people put out there to prospective friends, romantic interests and employers and our patients want to put their best face forward."
He further said that bullying can also be considered as one of the factors. Many children or even adolescents, who have been subjected to bullying, opt for plastic surgery as they believe that changing their features might save them from getting bullied in the future, Daily Mail reports.