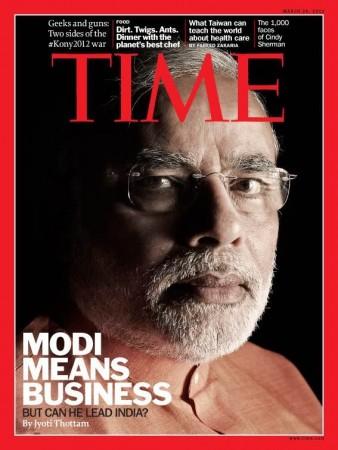 The Time magazine's online global poll to decide on the 100 most influential people in the world garnered more "Nos" than "Ayes" for Gujarat Chief Minister Narendra Modi and his supporters.
An online polling on Time's website that included Modi's name was open for voting till April 6. The Gujarat Chief Minister got 2,66,684 "Nos" and 2,56,792 "Yes;" the final figures have kept him two slots down.
Meanwhile, Anonymous, a group of hackers, and Eric Martin, general manager, Reddit, hold the first two slots with Yes (3,95,793)/Nos (27,303) and Yes (2,64,193)/Nos (49,450), respectively.
Initially the polling recorded the highest "Yes" for Modi. However, it was just a matter of time before the Gujarat Chief Minister saw the numbers of votes against him rolling up.
The main opposition party Congress and other opponents of Modi organised online rallies to push electors to vote the "touted exemplary politician (Modi)" out of the Time's list.
The Congress even accused Modi of making use of PR houses to endorse himself and mislead people through several online portals, sending thousands of e-mails and manipulating netizens in every possible way. A few NGO activists also made their effortless contribution in keeping Modi down in the influential list.
Getting into Time's 100 most influential list would have added another feather in Modi's cap after a photo of his was featured on the magazine's cover last month. The final list of Time magazine's influential people across the world will be released on April 17.
Modi has been relentlessly taking steps to wipe out the blot of post-Godhra riots from his political profile. However, it seems to haunt him without affecting his Chief Ministership.