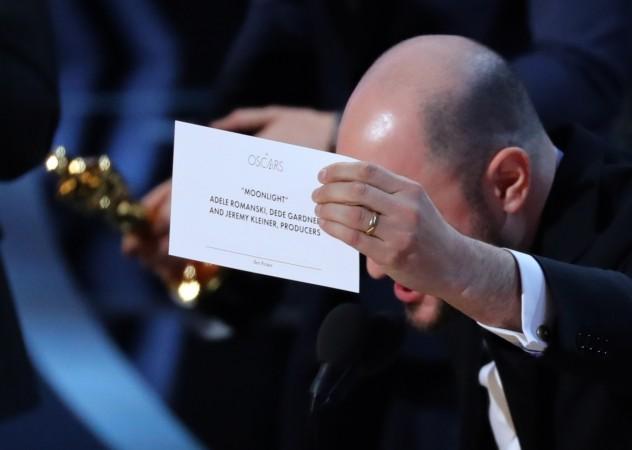 The 89th Academy Awards ended on a rather high note as the Best Picture presenters Warren Beatty and Faye Dunaway read the wrong card. After announcing La La Land as the winners of the category and the producers almost done with his speech, Beatty clarified that it was not the musical, but Moonlight which actually won.
While Oscar followers are still confused, celebrities were quick to respond to the confusion that panned out at the awards night. During a media interaction, Emma Stone responded that she wasn't sure how the confusion took place since she had the Best Actress card with her.
Also Read: Oscars Goof-up: When Academy Awards 2017 had a Miss Universe moment; Twitter erupts with funny memes of Steve Harvey
Oscar host Jimmy Kimmel took an immediate dig at Steve Harvey on the Oscar stage after the clarification was made. He said, "This is very unfortunate, what happened. Personally, I blame Steve Harvey for this."
Other stars took to Twitter to respond to the miserable goof-up. Take a look:
And the award for best Steve Harvey impersonation goes to Warren Beatty.

What. The. Actual. Fuck????

— Orlando Jones (@TheOrlandoJones) February 27, 2017
I think it's time to re-open that November 8th envelope..

— Diane Warren (@Diane_Warren) February 27, 2017
Maybe I won an Emmy one of the 5 times I lost! Anything is possible. Congrats to #Moonlight. An amazing and deserving best picture winner!

— Jesse Tyler Ferguson (@jessetyler) February 27, 2017
Nothing like live TV. Congrats to Moonlight! And to La La Land for such a gracious reaction. #Oscars

— Ellen DeGeneres (@TheEllenShow) February 27, 2017
The confusion, Best Picture announcer Beatty explained, took place because the card handed over to the presenters had Emma Stone's name printed on it for La La Land. This card confusion led to Dunaway reading only the movie name resulting in the wrong announcement. However, the team of La La Land chose to clarify the confusion and present the award themselves to their friends from Moonlight. They immediately exited the stage, giving Moonlight the stage.