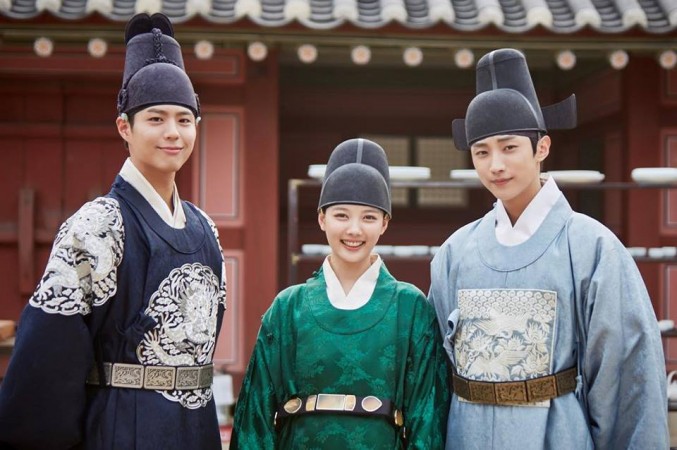 Korean historical drama "Moonlight Drawn by Clouds" has been receiving rave reviews from critics as well as fans for its unique theme. The brilliant acting and gripping storyline was one of the reasons why the show managed to break the 20 percent mark for viewership ratings, and the crew behind the show has been generous in praising the actors for its success.
On Sept. 13, a source from the drama told Soompi that its lead actor Park Bo Gum should be given due acknowledgement for making the character Lee Young a convincing crown prince.
"Word has been spreading on how Park Bo Gum is diligent and precisely prepared on set," the source said. "It's almost astonishing how he constantly researches about his character and checks things in detail."
"It's not easy to wear a hanbok for long hours in the sweltering heat while filming, but he's always smiling and giving the staff so much energy despite it. Park Bo Gum has the power to move people's hearts," continued the source.
Recently, "Descendants of the Sun" actor Song Joong Ki praised Park Bo Gum for his work on "Moonlight Drawn by Clouds" and said he was amazed at the success of the show.
Saying he knew the show would do well, Song Joong Ki added: "But I didn't know that it would do this well. I'm sincerely thankful, and want to thank everyone for loving Bo Gum."
Both Park Bo Gum and Song Joong Ki are represented by Blossom Entertainment.
Song Joong Ki also expressed a desire to work with Park Bo Gum, saying: "It would be great to play brothers some time, or even two guys that fight over the same girl. Regardless, I would like to work with [Park Bo Gum] in a project."
"Moonlight Drawn by Clouds" airs Mondays and Tuesdays on KBS2.