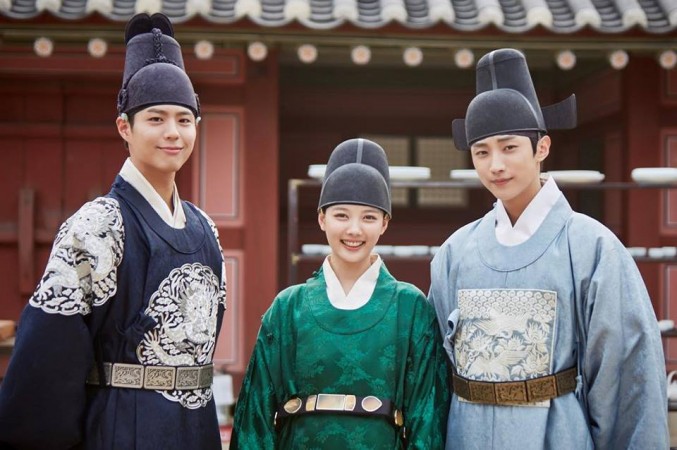 Korean drama "Moonlight Drawn by Clouds" has been receiving rave reviews ever since its premiere in August. It has been raking in such good ratings that KBS is reportedly thinking of extending the series.
"Moonlight Drawn by Clouds" is the story of a young prince who falls in love with a girl pretending to be a eunuch. The show airs Mondays and Tuesdays on KBS and the network has been discussing the possibility of extending the show by two more episodes. The show is currently expected to wind up on Oct. 25.
"It is true that the extension was discussed, however, nothing has been confirmed with the actors, the screenwriter, and other associates," a producer of the show was quoted as saying by Soompi.
In other news, "Moonlight Drawn by Clouds" has landed in a bit of trouble for a scene in the premiere that showed Kim Yoo Jung's character Hong Ra On wrapping her chest with a bandage so as to conceal the fact she's a woman.
Some viewers of KBS's hit historical drama have sent in complaints to the Korea Communications Standards Commission (KCSC) saying the scene was unnecessarily long. KCSC told news outlet OSEN that they have received many complaints pointing out that the scene was overly revealing as the actress Kim Yoo Jung was a minor.
The scene in question is currently under review, KCSC added.
Responding to these criticism, a source connected to the show said that the context justifies the portrayal. "It is a sad scene about Hong Ra On, who is unable to live as a woman despite being a woman," the source was quoted as saying by Soompi.
"Moonlight Drawn by Clouds" will air episode 7 on Monday and it is expected to see Ra On confessing about her true identity to the crown prince, whose sexual orientation has been the topic of a lot of discussion in the palace. The episode is titled "Confession."