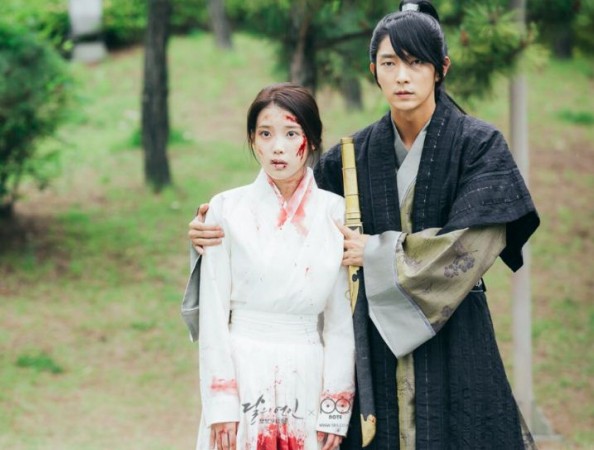 Moon Lovers: Scarlet Heart Ryeo is half way through and the fans can expect more drama coming up for the lead characters, Prince Wang So and Hae Soo.
In the upcoming 12th episode, the female lead will be thrown out of the palace by King Taejo, who believes that this is the best way to stop her from contacting the prince.
However, the King's decision would not stop his son and the fourth Prince of Goryeo Dynasty from seeing her. He will continue to approach her with marriage proposals.
But things take a turn for the worst in Scarlet Heart Ryeo after Prince Wang Wook intervenes and makes it difficult for the onscreen power couple to be together. So it seems that the only way for them to get a happy ending is to elope.
Nonetheless, the idea of Prince So giving up on the throne looks unlikely because his thirst for power was quiet evident from the premiere episode itself. Even cast member Lee Joon-gi does not seem to be optimistic about the romance between Hae Soo and his character.
Recently, the 34-year-old actor teased an unusual romance for the fourth prince in the upcoming episodes of Moon Lovers. "His surroundings change completely as he turns from the most humble prince to the most favoured one. Also, an usual romance awaits," he said.
As of now, Hae Soo is the only female character Prince So is consumed with in Moon Lovers. But chances for him to fall in love with Princess Woo-hee cannot be ruled. After killing King Taejo with the help of 3rd Prince Wang Yo, the last princess of Later Baekje might target the fourth prince to destroy the Goryeo Dynasty once and for ever.
Joon-gi recently dished out about the new crisis that his character will be facing in the upcoming episodes of Scarlet Heart Ryeo. According to him, the character will become the subject of aspiration, envy and jealousy all at the same time.
Additionally, speculations are rife that the finale of Moon Lovers: Scarlet Heart Ryeo will differ from that of the Chinese novel Bu Bu Jing Xin. So it remains to be seen if Prince So and Hae Soo will end up together towards the end of SBS period drama.