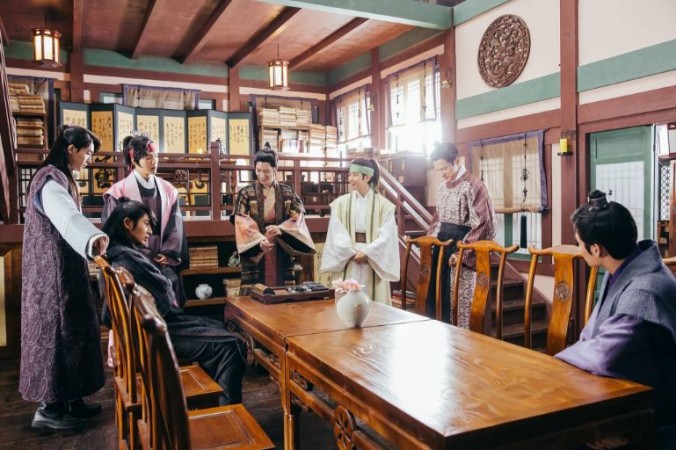 Moon Lovers: Scarlet Heart Ryeo episode 16 might not air on SBS this Monday, October 17. The show is likely to go on a short hiatus due to the scheduled broadcast of Pro Baseball Wild Card Game 2016.
As of now, the period drama does not have a definite schedule for its upcoming episode. According to its official Twitter page, SBS might delay or cancel the show depending on the length of the game.
Informing about the unfortunate re-scheduling of the mini-series, the creators tweeted out, "There will be a baseball game broadcast again on Monday, Oct 17th. #MoonLovers EP16 will air if the game will end at 9:20pm KST."
Last week, Scarlet Heart Ryeo faced the same re-scheduling issue due to the baseball game broadcast and episode 14 was slightly delayed by 10 minutes. So the followers of the mini-series will have to wait until October 17 to find out whether there is a delay or cancellation of episode 16.
Click here to watch Moon Lovers: Scarlet Heart Ryeo episode 16 via live stream. The sequel will also be available online through SBS app.
Meanwhile, if the upcoming episode gets postponed to the next day, then the following episode 17 will be delayed for a week. The rescheduling may not just affect the finale of Moon lovers, but it could also impact the premiere of upcoming drama Romantic Doctor: Teacher Kim, which is scheduled for November 7.
The other popular SBS shows that could be affected due to the re-scheduling and the baseball broadcast, include Huh Yi-Jae starrer period drama Your Present a.k.a You Are A Gift and variety show Master Of Living.
Watch the trailer of Moon Lovers: Scarlet Heart Ryeo episode 16 below: