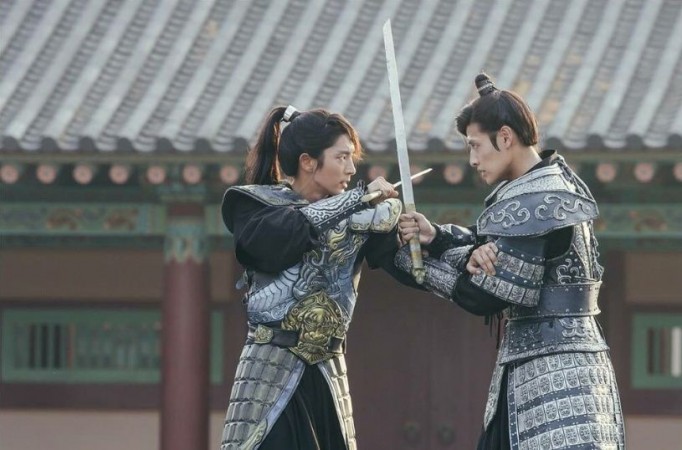 Moon Lovers: Scarlet Heart Ryeo returns with episode 13 tonight, October 4, at 10 pm KST on SBS. The sequel will feature a showdown between Prince Wang So and Prince Wang Wook.
Additionally, the sequel will also feature Hae Soo, Queen Sinmyeongsunseong, Princess Yeon-hwa, Prince Baek-ah and Prince Wang Yo along with King Taejo.
Click here to watch the episode via live stream. The sequel will also be available online through SBS app.
The Korean mini-series concluded its 12th episode with an unexpected plot twist, which hinted at the death of the 13th Prince. It showed how Nam Joo-hyuk's character managed to save his father from Princess Woo-hee's sword by sacrificing his life.
The upcoming sequel will continue to address the series of events that took place during the silver jubilee celebration of King's reign. But the primary focus of the episode will be on the battle between the Princes to prove their ability to be the next one in throne.
The followers of the SBS drama get a glimpse of the showdown between the princes of Goryeo Dynasty through the official trailer. The video begins with a shot of the third prince, who decides to chase Lee Ji-eun a.k.a IU's character after he is being informed that she is the only one who knows about the King's situation.
The promo also features a sequence between the fourth prince and his sister, wherein he explains the situation to her. In the clip, he can be heard saying, "It's deciding the order. Trying to see who would be more strategic to kill first because there can't be a single mistake on the way to the throne."
Watch the sneak peek video of the upcoming episode here.