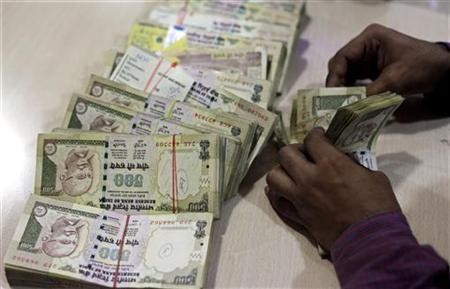 Rating agency Moody's has said that India's sovereign ratings will remain intact despite the depreciating rupee.
Moody's reasoned that rupee depreciation won't affect India's economy much as the government's debt from overseas is just 7 percent, which amounts to 5 percent of the of gross domestic product (GDP).
However, the rating agency said in a weekly credit report that the private sector will suffer more from the dipping value of rupee, as they will end up paying back more for the foreign currency borrowings.
In the meantime, Moody's said that India's sovereign ratings won't be affected even by private sectors, as their foreign currency borrowings amounts to only 16 percent of the GDP.
"Individual firms' foreign debt repayment troubles are unlikely to lead to the sort of domestic demand collapse or deleveraging seen in countries with more significant private-sector external leverage," Reuters quoted the rating agency.
The rupee touched Rs.56 per dollar mark last week due to the country's widening current account gap and fiscal deficit. The Reserve Bank of India (RBI) intervened following continues dip in the value of rupee.
It may be recalled that last month, Moody's rated India's outlook stable while Standard & Poor's downgraded Wednesday on account of large fiscal deficit, not very impressive reforms, fall in stocks and rupee.
"The stable outlook is also telling that we clearly see negative trends in terms of growth, in terms of the fiscal metrics as well as the current account balance as well. Some of these negative trends were anticipated in the BAA3 rating. We had said for a decade now that India's key credit constraint is its weak government finances. So, what we have been seeing in terms of the fiscal outcome validates what we have been saying for a long time," CNBC-TV18 quoted Udayan Mukherjee and Mitali Mukherjee of Moody's as saying.
"In terms of the growth outlook, clearly growth has decelerated over the past several quarters. We anticipate that this deceleration is not going to recover very rapidly. At the same time, we don't expect it to be perpetual. So, our stable outlook incorporates what we see not just in the next quarter or two, but in the next 12 to 18 months. We do see a recovery there. So, that's one reason why the outlook is stable," they reasoned on rating India's outlook stable.
(With Inputs from Reuters)