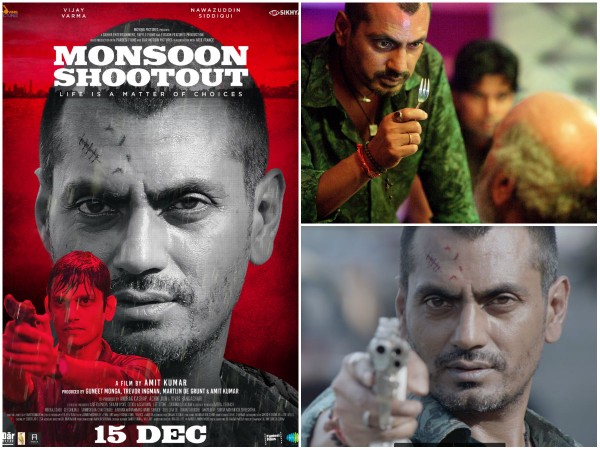 Nawazuddin Siddiqui's Monsoon Shootout released on Friday, December 15, and Bollywood critics have given their verdict. The movie was ready long back as it was premiered at Cannes 2013, and some other film festivals, but the film could not be released in Indian theatres all these years.
Directed by Amit Kumar, the film presents Nawazuddin in yet another dark character.
Monsoon Shootout is a Hindi noir thriller produced by Guneet Monga, Anurag Kashyap, and Vivek Rangachari. The film stars Nawazuddin Siddiqui and Tannishtha Chatterjee in the lead roles.
Nawazuddin has won a lot of critical acclaim for his performances in films like Gangs of Wasseypur, Raman Raghav 2.0 and Badlapur. The actor has now come back with another interesting crime thriller titled Monsoon Shootout, which has been written and directed by Amit Kumar.
Monsoon Shootout also features Vijay Verma and Neeraj Kabi in the primary roles.
The critics have given mixed response to the movie. While some appreciated the thriller and called it "startling", a few were a bit disappointed because of its predictable plot.
Take a look at the critics' review here:
Kunal Guha of Mumbai Mirror said: "Despite scenes where we see a head popping out of the body like a cork from a bottle of sparkling water, blood being squirted on faces and other unmentionable graphic scenes, there's little intensity as it all seems constructed and trite. Also to be pinned for this half-baked product would be the film's editing which is embarrassingly choppy—not in an indie way—but like the-editor-dozed-off-on-the-keyboard way."
IANS: "Monsoon Shootout deserves a shout-out for its authentic view of the moral ambivalence that a law enforcer must face during an 'encounter'. The plot weaves into tactile, tense but organically self-destructive situations of doom and decay where the voice of the conscience is drowned in the din of decay of deprivation."
Namrata Joshi of The Hindu said: "It starts off well, with the constant fear of something eerie afoot. The cast is efficient, specially Neeraj Kabi as the senior cop and Adi's boss. But one would have ideally wanted more of him."
Saibal Chatterjee of NDTV said: "At the levels that it does work, Monsoon Shootout, which had its world premiere in a Midnight screening at the Cannes Film Festival way back in 2013, has the sinews of a high-octane, action-packed Bollywood underworld tale. What defines it more significantly is its overly arty packaging. It turns the film into a stylish, if a touch laboured, piece of cinema."
Umesh Punwani of Koimoi said: "This is a film true movie-buffs could watch to learn some good stuff about narration, others can totally skip it. Watch it only if there's a shootout happening in monsoon and you've no place elsewhere to hide."