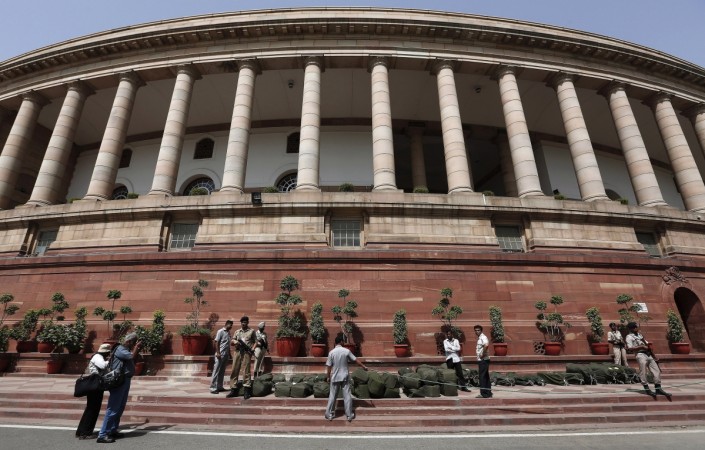 The monsoon session of Parliament in 2016 will be held between July 18 and August 12, the Cabinet Committee on Parliamentary Affairs (CCPA), headed by Home Minister Rajnath Singh, decided on Wednesday.
The main bills in focus during the session will be the Goods and Services Tax Bill, which has been passed in Lok Sabha, but is stuck in the Rajya Sabha due to stiff opposition from Congress that was until now in majority in the Upper House, and the Whistle Blowers Protection (Amendment) Bill, 2015. The government is reportedly confident about passing the GST bill after a Cabinet meet.
Finance Minister Arun Jaitley had met finance minister of 22 states earlier this month to discuss the bill. There was opposition from Tamil Nadu Chief Minister J Jayalalithaa on the issue. She has made a set of demands in exchange for lending her support for the bill to be passed in the Rajya Sabha. There are 12 Rajya Sabha members from the AIADMK. The Bharatiya Janata Party, which was 46 in number in the Rajya Sabha, needs as many supporters as possible to shore up against Congress' 61.
"The session will begin from July 18... There will be 20 working days," Parliamentary Affairs Minister Venkaiah Naidu said on Wednesday.
"We are in favour of passing the GST bill in the Monsoon Session. Will speak to all parties, even if it requires personal talks," Naidu said.
He further added that three pending ordinances will be taken up this session.
Among important bills that are lagging in the Rajya Sabha are the GST bill and the Whistle Blowers Protection Act. While the GST bill was opposed by the Congress in the Budget Session in 2016, the Whistle Blowers Protection Act has become crucial in light of the Vyapam scam in Madhya Pradesh, in which more than 50 witnesses and accused have been found dead.
The lower house has before it the Consumer Protection Bill 2015 and the Benami Transactions (Prohibition) Amendment Bill, 2015. The Centre will also be looking to replace an Ordinance on the National Eligibility-cum Entrance Test (NEET). The NEET had become a controversial topic after the Supreme Court upheld the national-level medical entrance test despite states objecting it.
Among issues that are expected to be raised during the monsoon session are the failed bid for the Nuclear Suppliers Group by India, Pakistan's purported involvement in India's failed bid despite Prime Minister Narendra Modi's diplomacy and Reserve Bank of India's governor Raghuram Rajan's departure.