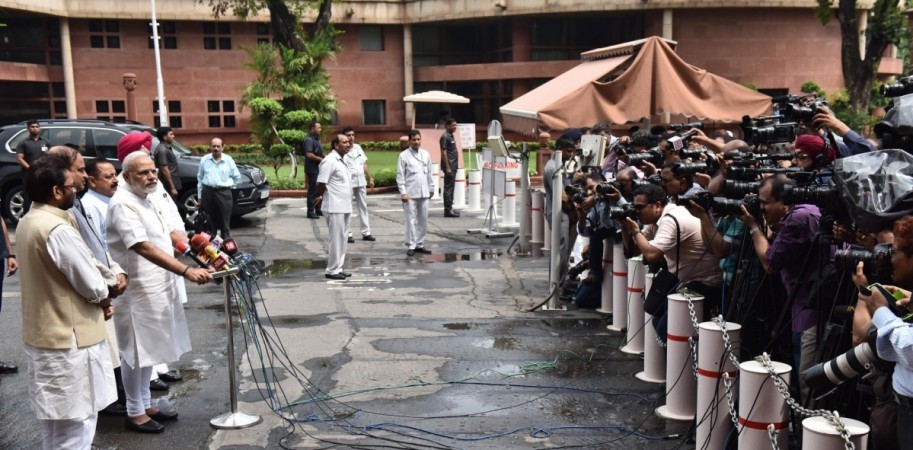 15:51 pm IST: Sitaram Yechury demanded for an investigation against use of excessive force in Jammu and Kashmir.
12:52 pm IST: "There are times when we should rise above political differences for the nation," Arun Jaitley said in Rajya Sabha on Monday about the Kashmir unrest.
"Battle in Jammu and Kashmir is between country and separatists," he said.
14:41 pm IST: Govterments are run on trust and faith, but people of J&K have a sense of mistrust towards the current Government, said Ghulam Nabi Azad in Rajya Sabha where the Kashmir unrest is being discussed during the 2016 Monsoon Session.
12:56 pm IST: Congress leader Ghulam Nabi Azad gave notice in Rajya Sabha to discuss Kashmir unrest. The discussion is likely to happen at 2 p.m.
Kiren Rijiju, Minister of State for Home Affairs will be speaking in Parliament about the current situation in Jammu and Kashmir.
11:59 am IST: Leader of Bahujan Samaj Party Mayawati blamed the Bharatiya Janata Party for increase in violence against Dalits across the country.
11:20 am IST: Piyush Goyal, Praful Patel took oath on Monday.
Lok Sabha was adjourned till Tuesday on account of passing away of Dalpat Singh Paraste, Lok Sabha MP from Shahdol, Madhya Pradesh.
11:18 am IST: P Chidambaram from Maharashtra takes oath.
11: 14 am IST: Nirmala Sitharaman from Karnataka took oath.
11: 09 am IST: Rajya Sabha members who had not done so before take oath.
11: 04 am IST: New ministers who were chosen during the recent cabinet reshuffle are taking oath in the Rajya Sabha.
10: 30 am IST: The 2016 monsoon session of Parliament is set to begin on Monday, July 18. Prime Minister Narendra Modi has arrived outside the Parliament and he addressed the media.
"Spoke to all parties over the past days, everyone is in the mood to further development," ANI quoted Modi as saying.
"All parties should work together to see to it that constructive discussions take place in Monsoon Session," he added.
"Hope Monsoon Session observes high standards of discussions and important decisions are made," he said.