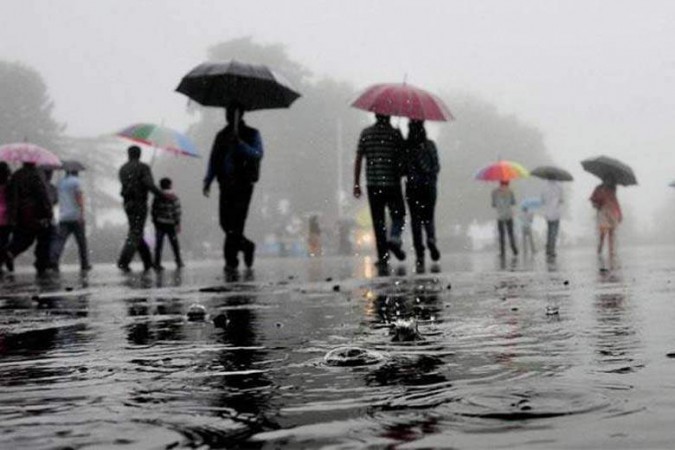 Monsoon has officially arrived in India, heralded by torrential downpours and high-speed winds in parts of Kerala. showers have been greeted with glee and relief in several parts of the southern state, including capital city Thiruvananthapuram.
"All the required conditions have been met," a source within the India Meteorological Department (IMD) has told Reuters on condition of anonymity while confirming the onset of monsoon in Kerala. It may be noted that India heavily depends on the rainfall brought on by southwest monsoon to irrigate its crops and fulfil many other of its water needs.
Private weather forecast organisation Skymet Weather has also confirmed the onset of monsoon in Kerala. However, it has said that monsoon has arrived in the North-East as well. It said in a report: "Kerala has been witnessing on and off rains for more than last one week. However, rains have picked up pace significantly during the last 48 hours and several places have recorded moderate to heavy rains with isolated very heavy showers."
Monsoon declaration criteria
The declaration of onset of monsoon depends on a number of criteria, which the IMD monitors. According to the department, if 60 percent of the weather stations at Minicoy, Amini, Thiruvananthapuram, Punalur, Kollam, Allapuzha, Kottayam, Kochi, Thrissur, Kozhikode, Thalassery, Kannur, Kudulu and Mangalore [now Mangaluru] report rainfall of 2.5 mm or more for two consecutive days after May 10, the onset of monsoon over Kerala can be declared on the second day.
However, while this is a necessary condition, there are other sufficient conditions for monsoon to be declared as officially starting. These include wind speeds in specific regions and some other details.
Two days early
An official document about the onset of monsoon states: "Southwest monsoon normally sets in over Kerala around June 1. It advances northwards, usually in surges, and covers the entire country around July 15."
With monsoon having been declared as arrived in India by May 30, it is actually two days early. See the normal path of monsoon onset in the graphic above.