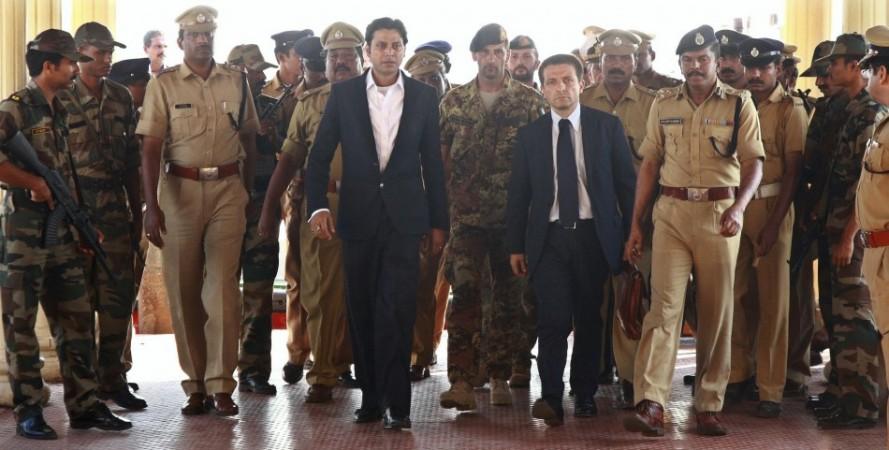 The families of the two fishermen, who were allegedly killed by Italian marines in February, have withdrawn their charges against the accused in return for the compensation.
Seeking to withdraw cases filed by them against the accused, the widow of the deceased fisherman Jelestine Doramma said in her petition filed to Kerala High Court that they have decided not to pursue the case in view of the out-of-court settlement reached between them and the Italian government.
Italy's consul general in Mumbai Giampaolo Cutillo said the settlement had been reached with each of the victims' families in the coastal town of Kochi. The relatives agreed to withdraw their cases against the marines.
Cutillo told reporters that the payment - 10 million rupees each to the families of the deceased by the Italian government was a gesture of goodwill and not an admission of responsibility for the deaths.
"We have reciprocated the gesture to express our solidarity with the two families. We are sorry for the incident and we are conveying our deepest condolence to the victim's kin," Reuters quoted Cutillio as saying.
Italy said on Tuesday it had paid $380,000 (around Rs.19,984,198) to the families of two Indian fishermen who officials said were mistaken for pirates and shot dead by an Italian navy security team guarding a merchant vessel, Reuters reported.
However, the Kerala government has not dropped its charges against the two marines.
Italian official maintained that the two fishermen were killed by the marines, who were escorting the Italian-flagged tanker Enrica Lexie off Kerala coast in February15.
The two marines were arrested on Feb. 19 and have been in judicial custody in Kerala.
The two marines, Latorre Massimiliano and Salvatore Girone, were charged with murder and are awaiting trial in Kerala.
The incident triggered a diplomatic row, with Italy accusing India of breaching its territorial jurisdiction by arresting the marines in international waters.