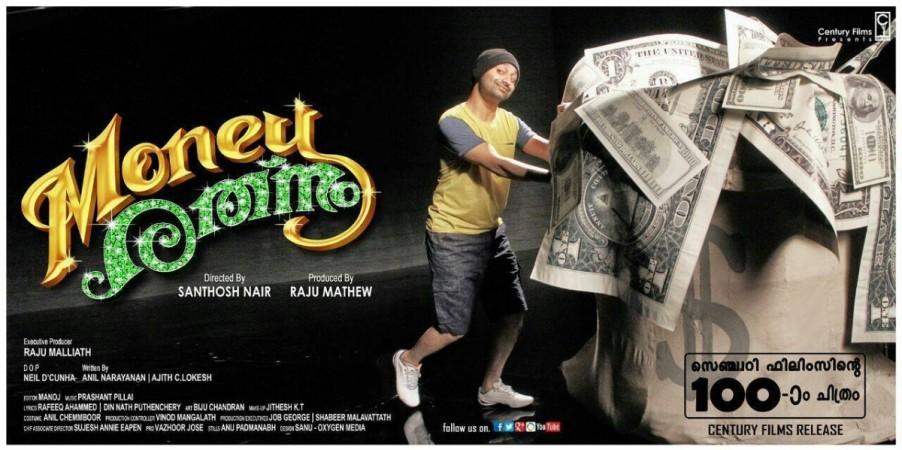 The Malayalam film "Money Rathnam" has opened in theatres to above average reviews.
The film, directed by debutant Santhosh Nair has Fahadh Faasil and Niveda Thomas in the lead.
Fahadh plays the character of Neil John Samuel, who is an executive in a car showroom. He is engaged to Piya (Niveda), who is a bold girl and a social worker.
The film takes a turn when Neil gets into some trouble with a few men. In his efforts to escape from them, he gets a bag full of cash and what follows makes the storyline of the film.
The film is appreciated for its interesting plot, performances, cinematography and some well conceived situations. But Santhosh Nair's direction failed to make an impression among the critics.
The film also has Joju George, Renji Panicker, Aarthi Ganeshan, Kochu Preman and Sasi Kallinga in important roles. The film is scripted by Anil Narayanan and Ajith C Lokesh, whereas the cinematography is handled by Neil D' Cunha. The music is composed by Prashant Pillai.
"Money Rathnam" is produced by Raju Mathew under the banner of Century Films.
Here are the reviews of "Money Rathnam" by various reviewers
"The film starts to meander to unwanted territories as the movie assumes the form of a movie on the road. Too many strands are tried to be weaved in to the basic fabric. That takes the sting out of the proceedings and the scenes involving Nivedha appear done to the death. The end is rather predictable and a bit stretched out as the script tries too hard to give finishing touch to each strand in the plot." – Metromatinee.com
"I wasn't impressed at any point by not even a single actor in this movie. Kochu Preman managed to create some laugh at one or two points. Apart from that there isn't much to mention. Neil D'Cunha is the cinematographer of this movie and he has done a pretty good job. Direction was confusing and was a kind of amateurish approach. Editing was neat too.Music was not bad and not so good either. BGM was impressive."- Cochintalkies.com
"Santhosh Nair has made the film nicely by keeping things funny and somewhat normal. Fahadh Faasil riding a two wheeler in his boxers and night gown is something that can go to the exaggerated level but the director made such things look good on screen. Screenplay has the required tempo and doesn't really hang around on those melodramas to spoil the mood. Dialogues are okay. Good cinematography from Neil D'Cunha. Fitting music and good bgms. Fahadh Faasil is not known for his fighting skills, but some sequences in the movie might give you an impression that he can be good in that. And the credits should go to the cinematographer, editor, sound designer and the fight master for that final output."- Lensmenreviews.com