Srinivas Kaushik, an award-winning filmmaker, is returning with a suspense thriller in the form of Mombathi, which has debutant Ravi Kumar, Rachana Smith and Neethu Shetty in the lead roles.
International Business Times India caught up with the team for a candid chat. Scroll down to read the excerpts from the interview:
Tell us how you got into cinema world?
Rachana Smith: I started my career as a model and made my acting debut in Telugu. My first Kannada film was Varadanayaka and then I was part of Victory. Mombathi is my third Sandalwood film.
Tell us about your journey and about your previous works.
Srinivas Kaushik: My career began as a journalist. From reporting to layout design, I did everything under the sun. After working at different levels in journalism, I ventured into electronic media. Then, I shifted my focus into editing films and worked for over 25 films as assistant or associates to directors before making my directorial debut in a Tulu film called Birse for which I won a State Award for Best Regional Film.
My second movie Yaradu was with Vinod Raj which was a suspense mystery flick. I did a novel-based film Tharangini which also won a State Award. Psychological film Bhahmara, action flick Bete and Angaraka are some of my other works.
Tell us about yourself.
Ravikumar: I am brought up in Bengaluru and have worked in Kannada, Tamil, Telugu and Malayalam film industries behind the camera in various roles including that of a clap-boy. I was also a fashion organiser and I did a Tamil tele-film called Doctor in 2008 which is often played by Podhigai. Mombathi is my first feature film.
What is the film all about?
Srinivas Kaushik: It is a crime suspense thriller. The story talks about the journey of the hero's life. A businessman falls in love with a girl. There is also something brewing elsewhere. The film is coming out with a message that everyone should have a good childhood. The film tries to explain what happens if we have a disturbed childhood. The undercurrent message will be on the responsibilities of parents which will be revealed in the end. Candle in the wind is the caption of Mombathi which is inspired by a song by Elton John and that has similarities with our hero.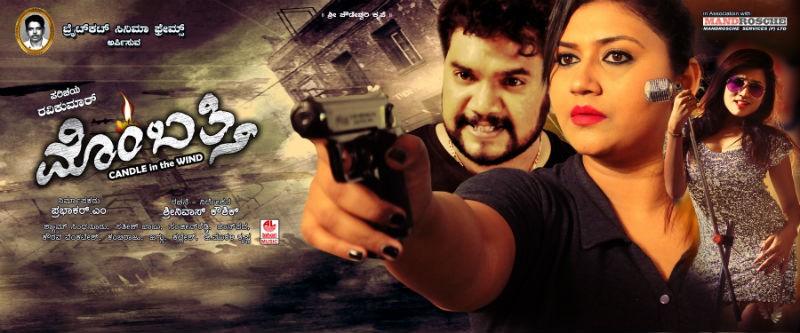 How did you pick your actors?
Srinivas Kaushik: We wanted a specific kind of a hero for this film and not the usual ones. I and the producer knew Ravi Kumar. Hence, we brought him on board after realising that he fits the bill. Rachana Smitha had the experience of working in reality shows and films. It is quite difficult to train newcomers. So, we decided to cast her as we need not spend time on teaching her how to face the camera.
Before commencing the shooting, the challenge for us was about finding an actor to play the role of a cop. We intended to cast a female instead of male as we see lots of women IPS officers around us. Producer Prabhakar suggested Neethu Shetty's name. When we offered her the film she was happy and instantly agreed to come onboard.
Neethu has essayed the role of an ACP. It is a different kind of role for her and also performed a few stunts on her own.
Tell us about the songs.
Srinivas Kaushik: Sathish Babu has composed the music and the album has four tracks. The introduction song is about the weekend lifestyle which is sung by rapper Chandan Shetty. Rachana too has lent her voice to 'Just Chill' track. Santhosh Venky, who recently won a State Award, and Ananya Bhat have sung a romantic number. There is one more track, which comes in a crucial part of the film, and is yet to be revealed.
How different is this project from your earlier films?
Rachana: Actually, I did small characters earlier, but I have done a full-fledged role in Mombathi. There was lot of scope for the performance. I play the role of a girl called Parineeta, who is brought up in an ashram after losing her family at an early age. She is a quiet girl who is looking forward for care and love.
Looking at the trailer, we get an impression that it is a bold role too.
Rachana: It comes with a different shade and when you see the film you will realise it.
How was the preparation for the role?
Rachana: Kaushik sir had given me a very good description of my role. He took the responsibility of moulding every character in the film and we followed his guidelines. Nonetheless, he also gave us the freedom to do it in our own way instead of putting pressure on us.
Which places have you shot the film primarily?
Srinivas Kaushik: The movie kicked off last year in September and we completed the entire shooting in four schedules. Initially, we shot the hero and heroine portions and Neethu joined later. Talkie portion was wrapped up first and the songs were completed later.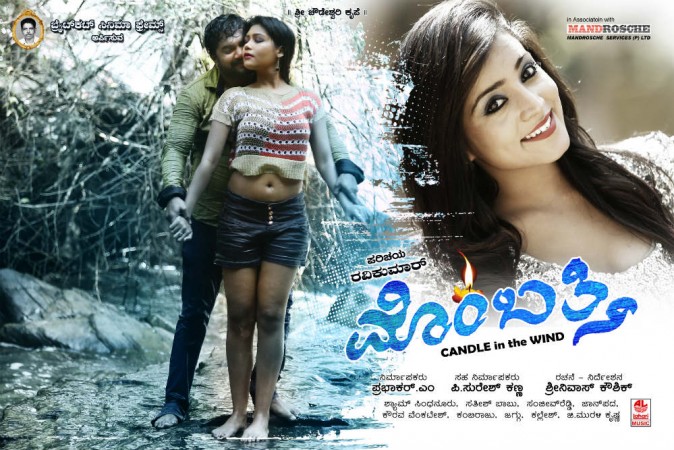 It is a city-based subject and the entire film has been shot in Bengaluru apart from songs which have been filmed in places like Sakleshpur, Mangaluru, etc.
Considering Neethu is senior to you, did you get anything to learn from her?
Rachana Smitha: Neethu and I had just two scenes. She was encouraging and a down-to-earth person. We had a good experience in total. Every day, there was something new to learn in this film. I think acting wise I have improved a lot. I was memorising dialogues and trying to give different expressions for the scenes.
Why should people watch your film?
Srinivas Kaushik: I don't want to compare my movie with other films. All I say is that Mombathi gives a different experience to the audience.