As a parent, you want to show your child that nothing is beyond their reach and there are no limitations on what they can achieve; it's all about perspective. When Holly Spring, whose passion is to churn what the normal folks see as anomalies into visual indulgence using her camera lens, created a whimsical photo series with her daughter as the subject, she achieved much more.
Though Violet, Spring's daughter, has 'Symbrachydactyly' (no left hand and partial forearm) and 'Hirschsprung's Disease' (a condition affecting the bowels nerve endings), that distinguishes her from other children of her age, she has always been a confident and happy little girl.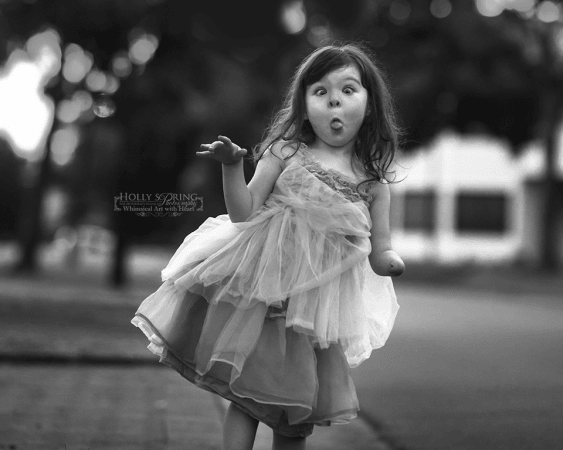 "I do not see my daughter as 'disabled', merely 'differently-abled'," clarifies Spring. She says that while photography has brought much attention to her business and earned her prestigious awards, it is also a great way for the mother-daughter duo to bond and have fun. "We role play a lot" adds Spring.
"Whimsical Art With Heart" is a colourful series with dynamic light and a magical, whimsical air. The beauty of the series owes as much to Violet's fantasies and imagination as it does to Spring's prowess as a photographer and digital artist.
"There might be a moth circling a street light, but we'll imagine that it's a fairy, and immediately that moth will grab Violet's attention. In that moment I am photographing pure wonder and innocence. That is the secret to a good whimsical shoot," explains Spring.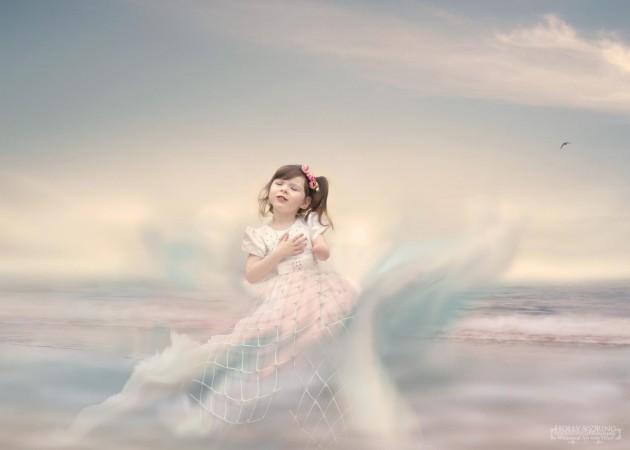 While, many have been enraptured by the photo series, calling it "magical" and "inspirational", a picture titled "Violet and the Giraffe", did earn some negative criticism as well. Many felt that Violet's limb difference in the Giraffe picture was shown on the wrong side and that Spring probably edited it out. Spring however, clarifies that she never did any editing with the arms, but simply flipped the image so that Violet could be seen facing the giraffe.
"Violet's arms should not be a critical talking point. People need to see past that because they are missing the whole point of these images," Spring further explains.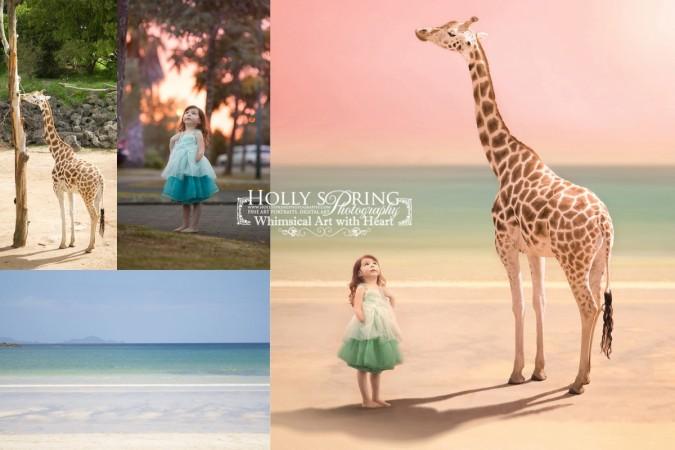 To make her point, Spring posted the image before she made the "creative edit" on her FaceBook page and explained, "Hopefully this will explain the Giraffe image with my daughter. I noticed that many have flipped the overall image, but to me it just doesn't look right. These are the images behind the final creative edit, and I stand by my result."
While Spring was named 'NZIPP/Epson Iris Portrait – Creative Photographer of the Year 2014' and was a finalist for the "commercial category", the controversial giraffe image did win the Gold Award. She also has the undying support of her very many fans.
April Cauthen Hurdle posted, "I don't understand people criticizing the giraffe shot because of her arm. Honestly, those are people who are just looking for something to criticize. If you just stop to appreciate the beauty of the image, you really shouldn't be worrying about which arm is affected. But sometimes people are so jealous that they just have to find something to hate."
Photographer Mia Gonzalez posted on Holly Spring Photography FaceBook page, "I love your work, it's absolutely magical I love the way you capture a child's innocence and wonderment. When I see your work, it's as if they're chapters in a children's story book that carefully paints a fantastical adventure."
While Violet's impending school years will prove to provide some busy time for the creative mother and daughter, Spring has confirmed via a press release that her future works will include limited edition Fine Art Prints, more Whimsical shoots, Portrait shoots and some speaking engagements.
Find Holly Spring Photography here.