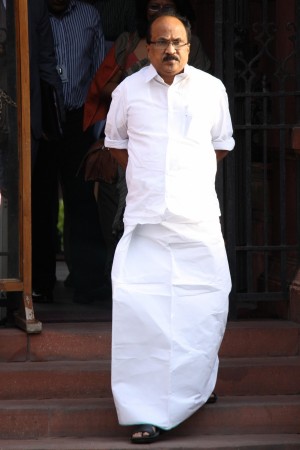 Congress MP from Karnataka Marpadi Veerappa Moily has come out in defence of Congress president Sonia Gandhi and vice-president Rahul Gandhi on Jayanthi Natarajan's claim that Rahul instructed her on decision-making during her tenure as Union environment and forest minister.
"Rahul and Sonia Gandhi never interfered with the working of any ministry: Veerappa Moily (Cong) on J Natarajan," ANI tweeted.
Another ANI tweet read: "Why would they interfere when they have full right of gaining the big share of power: Veerappa Moily (Cong) on J Natarajan."
Both in her letter to Sonia last year and at Friday's press conference in Chennai to announce her resignation from the party, Natarajan said that Rahul and his office had sent special instructions asking her to not to approve of projects of big companies like Vedanta and Adani as it would affect the environment and the tribals living in those areas.
Moily, howver, even claimed that Natarajan's revelations were a strategy to malign Congress. "Why the delay, it smacks of some grand design to malign the party: Veerappa Moily..." India Today tweeted.
Speaking clearly in favour of Sonia and Rahul, Moily said, "I am proof that Rahul didn't intervene in affairs of the environment ministry: Veerappa Moily," Times Now tweeted.
Natarajan announced on Friday that she is quitting Congress and will send in her papers soon. Citing the reasons for her resignation, Natarajan pointed out several issues between her and the party which she believed was uncalled for as she dedicated her 30 years for the party.