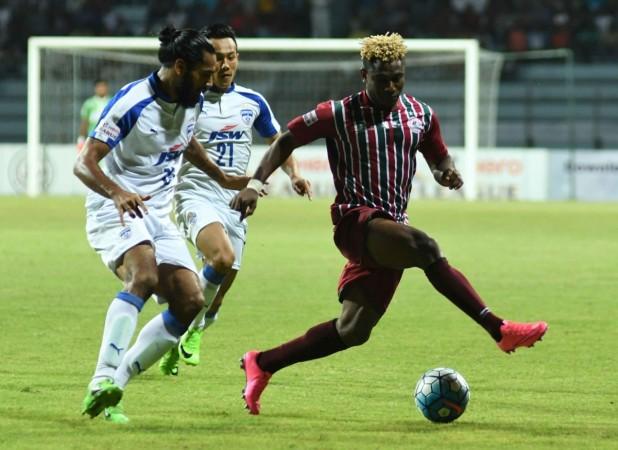 I-League CEO Sunando Dhar has mentioned many-a-time that I-League and Indian Super League (ISL) complement each others' success. That said, both the Indian football competitions stay relatively quiet over each others' individual seasons.
However, the Indian Super League website, in probably one of its rarest moments of showing affection towards the I-League, made the mother of all goof-ups and is getting miserably trolled for its highly-incorrect fact.
A tweet from the ISL twitter handle on Tuesday April 18 morning mentioned Sony Norde as an East Bengal player. Enough to attract the wrath of Mohun Bagan fans!
They wrote: "Sony Norde's strike helps the Red and Gold brigade reach the summit of I-League 2017."
In case you are unaware: The colour combination Red-and-Gold is associated with East Bengal, while Mohun Bagan are associated with the colour combination Green-and-Maroon.
The tweet, expectedly, was deleted after some minutes but some Indian football fans couldn't but help take a screenshot of the laughable error.
We can't help but express solidarity with the Indian Super League media team. They merely put out the report of the I-League match between Minerva Punjab FC and Mohun Bagan on their website. Sony Norde's late goal in the match gave the Mariners a 1-0 victory.
The I-League championship contest is now between Aizawl FC and Mohun Bagan. The two teams are set to compete in the biggest I-League game of 2017 on Saturday April 22. The winner, well, lifts the trophy!