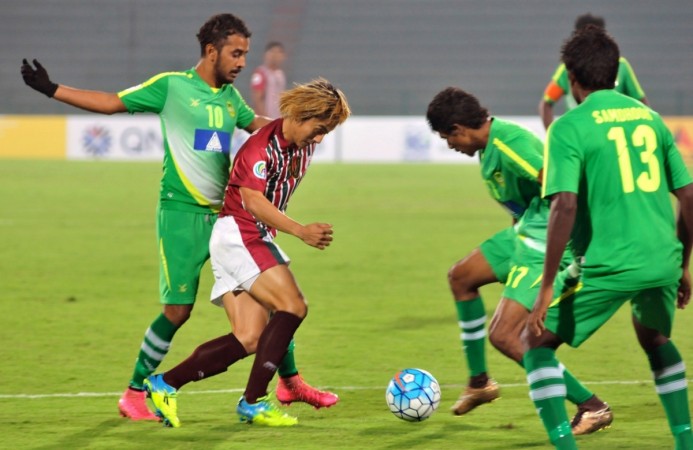 AFC Cup 2016 Group G leaders Mohun Bagan suffered their first defeat of the competition on Wednesday at the Indira Gandhi Athletic Stadium in Guwahati, at the hands of South China. The win for the Hong Kong-based side meant that they have now joined Bagan in the next round of the competition.
Bagan had already qualified for the pre-quarter final of the tournament earlier, and are slated to take on Tampines Rovers on May 24.
Last time, the Indian side had defeated South China 4-0 in Hong Kong in March, but this time the China side exacted a perfect revenge to get past Bagan with a 3-0 scoreline.
Mohun Bagan were completely outclassed in every department by the away side after they dished out a superior performance in Guwahati. Needing none but a win to progress to the next round of the AFC Cup 2016, South China, led by some wonderful performances from Mahama Awal, Law Hiu Chung and Ryan Griffiths, took control of the match from the very start.
The away side had the lion's share of possession in the match and Bagan had no options but to defend throughout the 90 minutes. South China got the breakthrough in the 19th minute of the match as Mahama's pinpoint delivery from the right flank saw Hiu Chung tap the ball in for the first goal of the match.
Hiu Chung then turned out to be the assist for the second goal of the match for South China as his delivery of the ball from the corner saw another touch inside the box, before Australia's Griffiths slotted the ball into the goal in the 24th minute.
Taking momentum in their stride, the away side continued the pressure and they reaped benefits of another swift move as Cameroonian forward Mahama got the third goal of the evening for South China in the 33rd minute mark.
The home side tried their best to get their form back and go with creating chances in the second half but sans a slight luck at the start, the likes of Jeje Lalpekhlua and Subhash Singh couldn't do much of an impact in the attack. Skipper Katsumi Yusa's performance was also mellowed down throughout the match and couldn't create any real chance.
Jeje, who had scored one of the goals for Bagan in their first leg game against South China in Hong Kong in March, was substituted by Souvik Chakraborty in the 69th minute of the match, and that said it all. This was not just his nor Mohun Bagan's day.
Meanwhile, Bengaluru FC too suffered a 3-0 defeat at the hands of defending AFC Cup champions Johor on Wednesday at the Larkin Stadium in their final group game of the competition. They will take on Kitchee in the pre-quarter final match of the competition in Hong Kong on May 25.