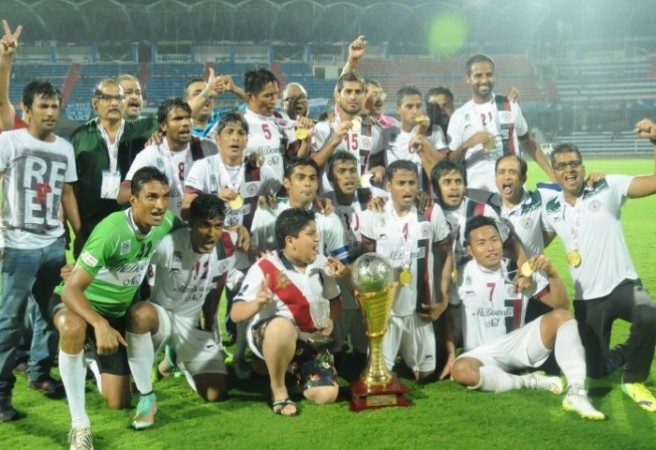 After coaching clubs such as Mohammedan Sporting and Prayag United, Sanjoy Sen was given a dream job of managing one of the top clubs in Indian football -- Mohun Bagan. Sen did not disappoint as he brought the best out of his players, who produced a wonderful result winning the prestigious I- League title.
The appointment of Sen late last year seems to have been a wonderful stroke by the three-member technical committee along with other club officials, who gave Sen an opportunity to coach the team and Sen spread smiles across the city of joy on Sunday.
With a scoreline reading 1-1 against Bengaluru FC in the final game of the season, they won the title, which they had won 13 years ago.
Things could not have got better for Sen, as this was first coaching stint with a club of such stature.
Make no mistake, the job at hand was a huge one for Sen, as the club was not witnessing a good time in Indian football. There was a serious need for the club to revive its lost glory, as they were one of the most successful teams in Indian football, but their last few years did not reflect their stronghold in the game.
Mohun Bagan and East Bengal are the two most popular clubs from Bengal and they have not done much justice to their crazy fans in their city of late. But with this title, Sen hopes that it is the turning point for Bengal.
"Hope, this proves to be the turning point for Bengal football. Bengal teams should have continued to set the benchmark in Indian football, but we had been on a terminal decline. Both Bagan and East Bengal had won their last National League titles many, many moons ago. Hope, this will arrest the slide and usher in a revival," Sen said in an interview with The Indian Express.
Sen overcame various kinds of obstacles after taking over the reign, as he did not have much budget to play around with and add to it their sponsorship deals, which ran into problems. He did feel that with a shoestring budget, the club was in a difficult phase.
"It was indeed a difficult period. Football is their livelihood and they had a legitimate grievance. I described the whole situation; the reason for the funds crunch and I also told them that the issue would be sorted out soon. The boys responded in a very positive manner," added Sen.