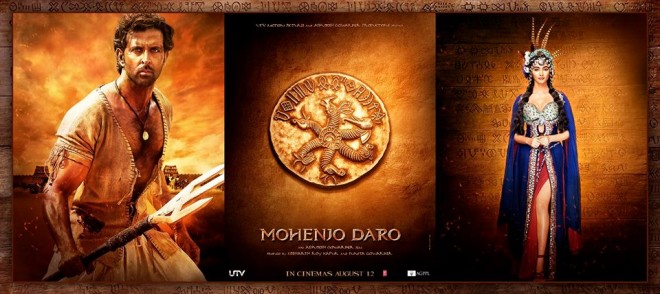 The makers of "Mohenjo Daro" released the trailer of the Hrithik Roshan and Pooja Hegde starrer film on June 20. The trailer was released across Star TV networks and it received positive response as it was viewed 30 million times by fans across the world.
The trailer of "Mohenjo Daro" was played on the network channels at 8:57 p.m. and it garnered massive views, while the video on YouTube also crossed 1 million views within 24 hours. "We thought it would be an ideal platform to release the film's trailer which deserves to be seen by all as part of a special roadblock across the Star Network. We also made the trailer available across digital platforms as well as part of the launch," IANS quoted director Ashutosh Gowariker as saying.
The makers of "Mohenjo Daro" initiated this new marketing move and opted to unveil the trailer through a global GEC (General Entertainment Channel) roadblock. Ashutosh, who had introduced TV series "Everest" on the small screen, seems to know that the television is the fastest way to reach a wider audience at a particular time. The makers made sure that they set such a time to release the trailer on the small screen when most of the families are in front of the television.
It looks like the strategy worked, thus, the views crossed 30 million. Also, the trailer on YouTube garnered more than 1 million views within a few hours of its release. The Ashutosh Gowariker directorial is set in the era of the Indus Valley civilisation in the city of Mohenjo Daro and it dates back to 2600 BC.
Produced by Siddharth Roy Kapur and Sunita Gowariker, "Mohenjo Daro" is slated to be released on Aug. 12. Hrithik plays the character of Sarman and Pooja's character is called Chaani. The trailer of "Mohenjo Daro" shows that Hrithik goes to the historic place of Mohenjo Daro and eventually realises that he has a deep connection with the place.