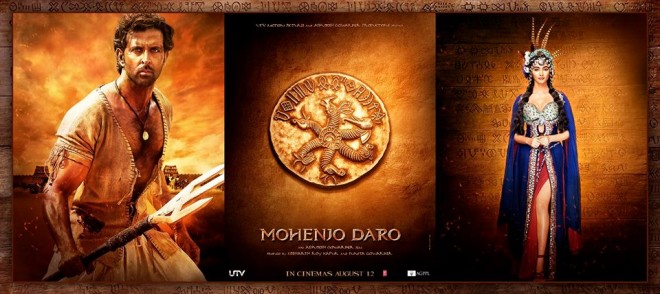 Hrithik Roshan took close to two years to shoot "Mohenjo Daro," making it a much awaited film. But with the trailer out, I cannot say if I still am waiting eagerly for the film to arrive in theatres on Aug. 12.
"Mohenjo Daro" trailer highlights the large-scaleness of the film and the brewing romance between its lead characters — Sarman (Hrithik) and Chaani (newbie Pooja Hegde). That is totally okay, but what didn't quite sit is the VFX work. The scenes do not look as good as real. But then again, that's my opinion, people may want to disagree.
The kind of clothing the actors have on is another point that is being debated upon by several. A few days ago, JNU scholar Ruchika Sharma pointed out mistakes in the way the film's leading lady Pooja has been presented.
In a series of tweets, Ruchika wrote that the team could have taken cues from the many terracotta figurines depicting the Harappan women. The implied meaning of those posts is simple, the makers hadn't done much of a research on the era their film is set against the backdrop of.
However, director Ashutosh Gowariker sat with the trusted names in archaeology to learn about the culture of those times. "Since this was a make believe world, when I started my research, during the initial phase, I came across Mr Jonathan Mark Kenoyer's books, Ancient India: Land of Mystery and Excavationsat Mohenjo Daro. I immediately got in touch with Mr Kenoyer, Dept. of Anthropology, University of Wisconsin to seek his assistance. He has worked at the Mohenjo Daro excavation site for the last 35 years. To my good fortune, he agreed to participate to help me realise the true potential of the film's story," Catch News quoted him as saying.
However, below are some of the negative comments that the trailer has attracted:
Sukanya Verma: Wouldn't it be great if this was a Khoon Bhari Maang sequel instead? :D #MohenjoDaroTrailer
Sayantan Ghosh: The #MohenjoDaroTrailer looks like what Jodhaa Akbar would have looked like during recession.
Madhav Samant: Saw the #MohenjoDaroTrailer on the tele yesterday. Can't say I was impressed. Lots of CGI. But mind open, as it's Ashutosh G after all.
Udata Pandu: Ashutosh Gowariker's #MohenjoDaroTrailer is 3&1/2 minute long. I'm sure the movie will be longer than the entire civilization's existence.
Mmoseen: After watching #Crocodile Scene in #MohenjoDaroTrailer i felt like #Shaktimaan had better VFX @iHrithik you guyz shld hv gin it to @nvidia
CHANAKYA: Disappointed with #MohenjoDaroTrailer. Was hoping it to be a one way clash. But things are looking tough for #MohenjoDaro now.
@RoninADfan: Agnipath + Gladiator + love story 2050 = #MohenjoDaroTrailer
Balu S Raj: We haven't decoded their script yet but what the hell, lets make a movie about them with messed up accents! #MohenjoDaroTrailer
Dream walker: I love #HrithikRoshan but disappointed with vfx part. Let's be hopeful and not judge too quick. #MohenjoDaroTrailer