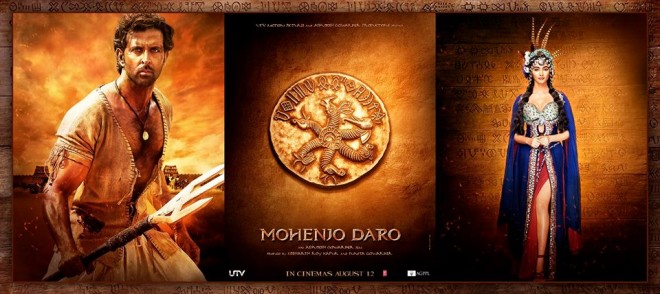 Hrithik Roshan's "Mohenjo Daro" isn't out for another 10 days or so, but industry insiders have already watched it and appreciated the fast-paced love story.
Some have even praised the action sequences, tagging them as "breathtaking," Catch News reported.
As reported earlier, this is director Ashutosh Gowariker's shortest film with a run-time of 150 minutes. What's more surprising is that the Central Board of Film Certification (CBFC) that has been strict with films lately, has passed "Mohenjo Daro" without any cuts, awarding it with an U/A certificate.
"The three kisses in Mohenjo Daro have been left untampered. The film has been passed without a single verbal or visual cut, with a UA certificate," a source from the board told DNA.
There was a strong murmur about how the lead actors — Hrithik Roshan and fresh face Pooja Hegde — share intimate scenes in the film, with one stretching over a few minutes that has been shot in a cave.
What else is going on with the film?
Pooja, in her recent interviews, has said how it was never awkward filming kissing scenes with Hrithik. First, because it's technical and there are scores of people watching the stars get intimate. Second, the superstar has always been a friend and a good advisor to her, which helped her be at ease during such scenes.
"Mohenjo Daro" arrives in theatres on Aug. 12, same day as Akshay Kumar's "Rustom." Ashutosh's magnum opus may have been met with a lukewarm response so far, but people might just flock to theatre because they get to see Hrithik on the silver screen after two long years.