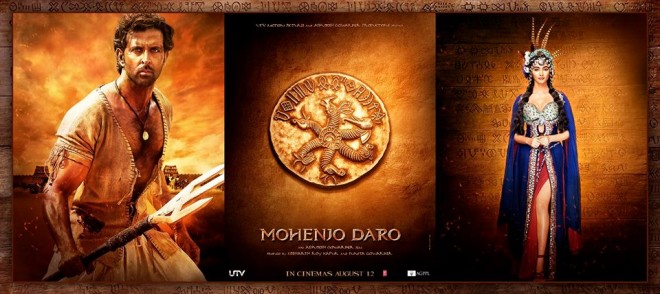 After Hrithik Roshan's first look in "Mohenjo Daro," the makers of the movie had released the first look of Pooja Hegde in the film and it was well praised by fans. However, an aspiring archaeologist, who is an M.Phil student at JNU, and some others slammed the makers of the period drama for "stereotyping" the Harappan culture.
The aspiring archaeologist, Ruchika Sharma, made a series of tweets pointing out the apparent wrong portrayal of the Harappan civilisation in the picture that introduced Pooja. The actress was seen sporting a blue outfit coupled with feathers tied to her head gear.
The JNU student ridiculed the poster saying that Harappan people never had those feathers in their hair. She also said that Harappan people were of dark complexion, unlike Pooja, and asserted that Bollywood is obsessed with fair ladies. The young lady pointed out some other apparent mistakes in the poster of "Mohenjo Daro," featuring Pooja.
Directed by Ashutosh Gowariker, "Mohenjo Daro" is a historical period drama and is touted to be one of the most expensive Bollywood movies to date. Earlier, Hrithik was seen sporting a rugged look in the first-look poster of the film.
The movie has mostly been shot in Gujarat and Mumbai. It will reportedly show Hrithik falling in love with Pooja's character, who is his enemy's daughter. This also happens to be Pooja's Bollywood debut. Hrithik will be back on the big screen after a long gap and there is a lot of hype around the film. "Mohenjo Daro" is slated to be released on Aug. 12.