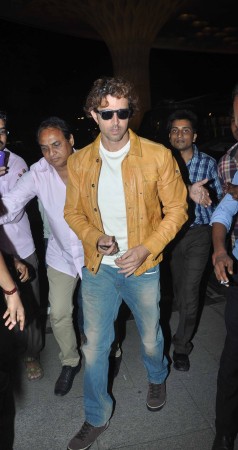 Hrithik Roshan, who earlier judged a TV dance show "Just Dance" (2011), is making a comeback to the small screens as a host.
However, this time, it's not a dance show but a series titled "Real Heroes" that is based on people who fought against all odds to become real-life heroes, reported DNA.
The "Bang Bang" actor, who too had overcome stammering, instantly connected with the show's concept and agreed to be a part of the show.
"Hrithik has himself been a real-life hero. He stammered during his childhood and growing years which he overcame through intense voice exercises and willpower. He immediately connected with the show's concept and theme. And agreed to come on board," a source told the daily.
"The series is deeply motivational. That's why Hrithik has agreed to come on board for Real Heroes. Of course, the zeroes on the pay check helped."
"Real Heroes" will be aired on Discovery channel and the first episode will feature wrestler Sangram Singh, who had been bound to wheel-chair after a major accident but eventually turned out to become an Olympic champion.
Meanwhile, Hrithik is busy shooting for Ashutosh Gowariker's period drama "Mohenjo Daro".
Also starring newcomer Pooja Hedge, the film is a love story, that dates back to the 26th century BC and has some powerful stunts performed by the honey-eyed actor.