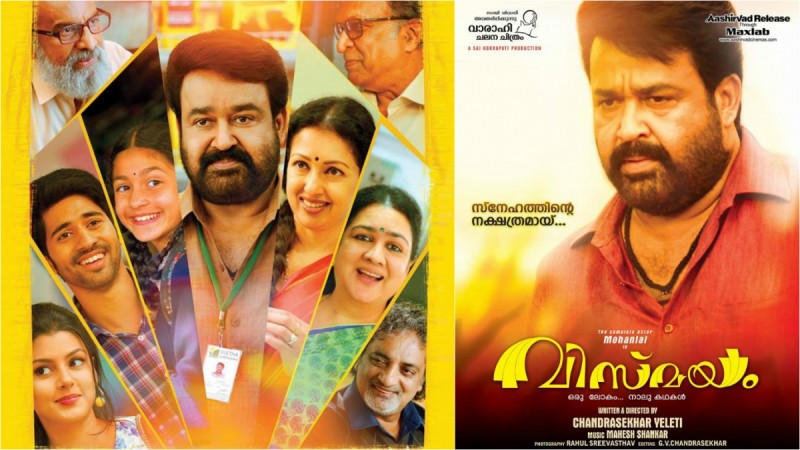 "Vismayam" (which means amazement) is the Malayalam version of Mohanlal's debut Telugu movie "Manamantha." The film revolves around incidents that happen in the life of four central characters. How their individual stories are interwoven together for a happy ending following a few mysterious incidents builds the storyline of the movie.
In the Chandra Shekhar Yeleti-directorial venture, Mohanlal plays an assistant manager at a supermarket and struggles hard to get a promotion to meet domestic expenses. Gauthami portrays a typical housewife Gayathri, who is only bothered about the well-being of her family members and purchasing things at discounted rates, even though she is well educated. Viswant Duddumpudi is in the role of the studious engineering student, Abhiram, who also keen to take tuition classes for his friends free of cost as he believes that knowledge should be shared with everyone. However, he gets distracted after meeting a rich girl Aira (Anisha Ambrose), whom he falls in love with. Raina Rao as a schoolgirl Mahitha shows what humanity is and also endorses Narendra Modi's Swachh Bharat Abhiyan.
What is special in "Vismayam"?
Mohanlal has given spectacular performances as a common man in many movies before and, hence, Sairam in "Vismayam" looks like a cake-walk for the superstar. The moments spent together by Gauthami and Urvashi (Gayathri's friend) add humour to the film. The child artiste, Raina, proves her talent with a natural performance though at times you might doubt if kids her age are mature enough to do the things she does in the movie. Even at his young age, the child who played the role of Veer Shankar gets applause for his impromptu acting.
What are the weak points of "Vismayam"?
"Manamantha" might impress the Telugu audience for its freshness, but Malayalam viewers may not find it as thrilling, since Mollywood has already dealt with similar storylines before. Movies often lose their essence while getting dubbed to another language, and same is the case with the Mohanlal-starrer, which also has its share of flaws, be it the dubbing with no lip syncing for certain characters or the translated songs. While Mohanlal, Joy Mathew and P. Balachandran's characters had lip-synced the Malayalam dialogues throughout the movie, Gauthami joins the league only towards the end though she initially fails in timely dialogue delivery.
Even though the makers had said that the story is of a Malayali family settled in Hyderabad, the audience would be surprised to see that each character in the film is bumping only into Keralites — be it the auto drivers, shop keepers, street artist and even beggars. Also, the name of every shop and road is written in Malayalam even when the audience is aware that the story is happening in Hyderabad. In one of the scenes, a red Mercedes Benz gets transformed into a red Mini Cooper in a fraction of seconds. However, these drawbacks can be neglected as making a movie in three different languages is not an easy task.
Final verdict
"Vismayam" might please the Telugu audience since Tollywood rarely comes up with stories of middle-class people. There is a high possibility of viewers getting irritated hearing Malayalam while seeing the actors move their lips for Telugu dialogues. If that is bearable for you, "Vismayam" is worth a one-time watch. The family entertainer, which shows the issues faced by the common man, is a story most average movie-goers will relate to.