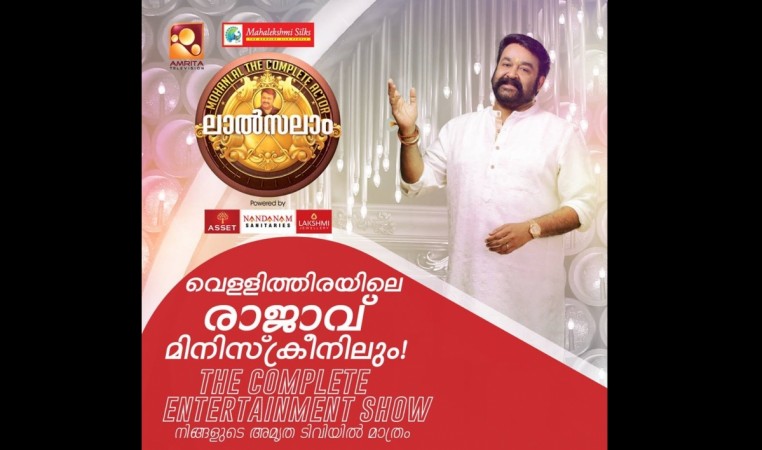 The wait is over. The first episode of superstar Mohanlal's much-awaited television show Lalsalam was aired on Malayalam entertainment channel Amrita TV at 8 pm on Friday, August 18. The grand premiere show, hosted by actress-RJ Meera Nandan, saw the presence of celebrities Manju Warrier, Shaji Kailas, Suresh Kumar, TP Madhavan, KS Chithra, Akshara Kishore, Meenakshi and Surabhi Lakshmi.
What happened in episode 1 of Lalsalam?
The show started with Mohanlal's introduction to the programme with Mohiniyattam and Chendamelam in the background. Popular keyboardist Stephen Devassy mesmerised the audience with his magical hands. Manju Warrier was the first chief guest of the episode and delivered her hit dialogue with Lalettan from the blockbuster movie Aaram Thampuran.
Manju, who has shared the screen space with Mohanlal in four hit movies, opened up that when roped in to play the lead role in Aaram Thampuram, she was scared to act with Lalettan.
When asked about the favourite character played by Manju, Mohanlal named Unnimaya from the Shaji Kailas directorial. It was followed by a question-answer session, for which Manju gave diplomatic answers.
"I haven't heard Lalettan saying anything bad about someone, and I think that's the reason why all are loving him," Manju said.
Post break, director Shaji Kailas graced the stage and shared his experiences in working with the versatile actor in many movies, especially Aaram Thampuran released in 1990. "This movie has brought many lucks in my movie. Soon after the shooting was wrapped, my son was born, and we named him Jagan, the character name (Jaganadhan) of Mohanlal in it," Shaji is heard saying during the show. The movie's producer Suresh Kumar and actor TP Madhavan also attended the first episode of the show.
Popular playback singer KS Chithra, who has rendered her voice for the songs in Aaram Thampuran also attended the show. She mesmerised the audience by singing hit song Paadi Thodiyiletho, and talked about her charity organisation to support struggling musicians. In remembrance of her late daughter Nandana, she gave a pension amount of Rs 4,000 to sick musicians.
Lalsalam also has social responsibilities
The show introduced Jolly Johnson, a social worker, who has dedicated her life for special and underprivileged children and aged parents through her six-year-old organisation H2O.
A handicapped class 12 student Kanmani, a budding artist and singer from Mavelikkara, astonished Mohanlal with her talent in Lalsalam. The girl also gifted the portrait of the actor drawn with her leg.
Other chief guests
National Award-winning Surabhi Lakshmi, child artistes Meenakshi and Akshara Kishore also attended the event.
The over one-hour show will be aired on every Friday and Saturday at 8 pm. The second episode will be on the hit movie Aye Auto released in 1990.
Stay tuned to IBTimes India for the updates of Lalsalam.