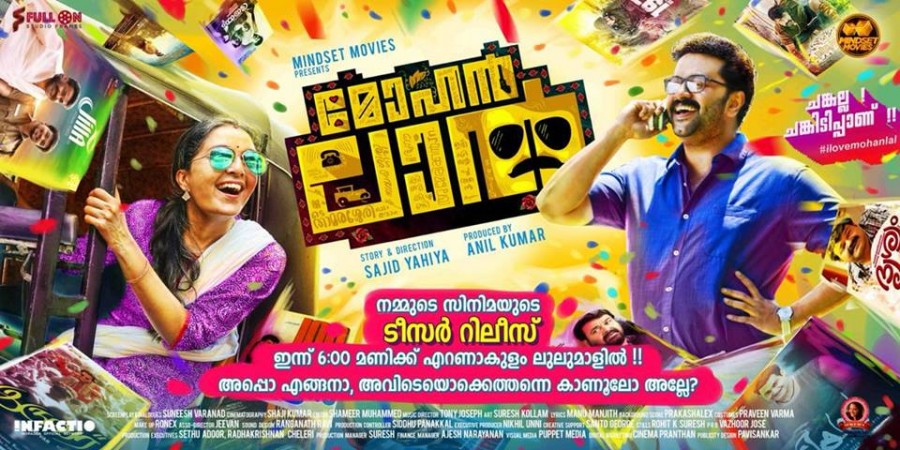 The teaser of the Mollywood movie Mohanlal is out, and is winning hearts all over with its fun spirit and ardent devotion to the legend of Malayalam cinema, Mohanlal. The movie, directed by Sajid Yahiya, stars Manju Warrier as the superstar's die-hard fan.
The movie releases in April and features Indrajith Sukumaran as the male protagonist. Manju plays Meenukutty from Kerala, who feels she has a connection with Mohanlal as she was born on the same day Mohanlal's first film Manjil Virinja Pookal released across the state. The cast also includes Salim Kumar, Aju Varghese, Hareesh Kanaran, Soubin Shahir, Siddhique and Sudhi Koppa.
The teaser is a quirky tribute to Mohanlal, who is fondly known as Lalettan to his fans. There are several scenes which will tug at your heartstrings and make you relate to Meenu.
Firstly, when the young Meenu lights up on seeing Mohanlal's posters and has a big smile on her face, it reminds us of the crazy fangirling most of us must have done in our growing-up years, like making cutouts of our favorite actor's face and surrounding ourselves with homemade posters.
In the second memorable scene, grown-up Meenu dresses like her favorite superstar, with identical sunglasses for the perfect swag. Her joy at finding a connection with him is palpable in her expression, portrayed brilliantly by Manju Warrier.
The third great moment comes when the mood of the teaser shifts from sweet to peppy when Meenu appears on the screen amid falling confetti and blows a kiss to a giant cutout of Mohanlal, creating a picture-perfect moment in the teaser.
Fourth, the introduction of Indrajith as Sethu is also epic, with the actor twirling a lungi above his head in an action sequence. Indrajith matches Manju's goofiness perfectly in the movie.
The fifth boost comes from supporting actors like Salim Kumar and Aju Varghese, who promise to contribute to the upbeat tempo of the movie and make it a fun ride for the audience with their hilarious antics. The teaser captures the essence of each character, leaving the rest for imagination.
The background by composer Tony Joseph sets the fun mood of the movie, taking the viewer to a world of Mohanlal fandom that promises to entertainment them fully.
Manju Warrier, the female protagonist of the movie, has a Mohanlal connection in real life as well. She has worked with the Mollywood veteran in several movies, like Ennum Eppozhum, Villain and her upcoming release Odiyan.
Her last movie was Aami, the biopic of the Malayali writer Madhavi Kutti. People are waiting to find out how Warrier brings to life the character of a die-hard fangirl in Mohanlal.
Check out the hilarious teaser below: