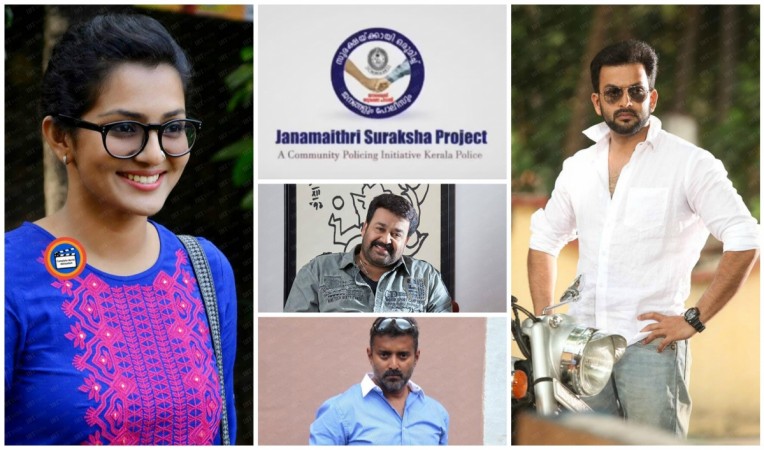 The Kerala Police have launched the Janamaithri Sukraksha Project campaign to ensure the safety of women, children and for traffic rules. The advertisement, featuring Prithviraj Sukumaran, Parvathy and Sijoy Varghese, was released Tuesday, Feb. 23, on the YouTube channel of POFFactio.
Through the campaign, the Janamaithri Police ask people to approach officers to report domestic violence by dialling the toll-free number 1091. "Janamaithri Police has come up with an amazing platform for us to reach out for help. If you believe that you are a victim of emotional or physical domestic violence, please call 1091, a toll free number. Otherwise, please be bold enough to react and tell your fears to the beat officer when they come to your door, (sic)" actress Parvathy is heard saying in the video.
The campaign also aims at providing help for children who are being abused mentally and physically in households and localities. If any kid is seen being exploited, the public has been requested share information on it by dialling the toll-free number 1090. "We are unfortunately living in a day and age where we can no longer vouch for the safety of our children. And why we are not able to that is because is more often than not the imminent threat is as close at their own homes. Today, can our children go out and play without fear? No they can't, (sic)" says actor Prithviraj in the video.
"So I am here to tell you that no longer should you fear the police to complaint. Janamaithri Police in your locality are always at your beck and call. If any such circumstance if you think a child is being exploited, please dial the toll free number 1090. Give them a call and I can assure you help is just an arm's length away. Remember, you might be young, you might be a kid, but you always have the right to fight for your rights," he adds.
The campaign also aims at informing the public on reporting incidents of traffic violation, and Sijoy Varghese is heard saying in the video: "If you witness a road accident or someone driving carelessly, report immediately. Police will rush to your help. Do not fear to fight against wilful traffic rule violations. Each life is precious, let's be vigilant."
Mohanlal's advertisement for the Kerala Police's helmet campaign, asking the public to wear helmet for the safety, was released a few days ago.
Watch the campaigns here: