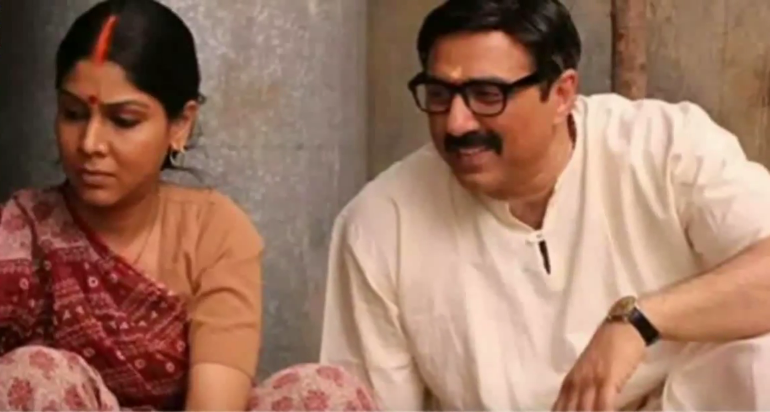 Sunny Deol's Mohalla Assi has finally hit the theatres after almost three years of battle with the censor board but it looks like director Chandraprakash Dwivedi's film hasn't been able to strike the chords with the critics.
The movie, which also stars Sakshi Tanwar, Ravi Kishan, Saurabh Shukla, Mukesh Tiwari, Rajendra Gupta, has received not-so-good reviews from the critics. They felt that the movie could've been a better and powerful depiction of the religious culture in Varanasi but unfortunately, it fell short of expectations despite having so much potential.
Mohalla Assi is based on writer Kashinath Singh's 2004 novel Kashi Ka Assi.
Critics found Sunny Deol's performance not really convincing as an Assi dweller and other actors, unfortunately, remained underutilised. Sakshi Tanwar, however, managed to impress the critics with her performance.
Take a look what critics have to say about Mohalla Assi film.
The Indian Express: "That Mohalla Assi has it, feels like an act of bravery. That the film talks of other religions, and other ways of being, while clomping around heavy-handedly about progress and the price of it, is also something.

Sadly, Mohalla Assi is not much of a film. It's just a collection of choppy scenes, making it seem that it was censored heavily. It's been in the making for five or six years, and you can see later add-ons: Deol is earnest, but not really convincing as an Assi dweller. The other actors are underutilised (Shukla), or made to declaim loudly, not speak to each other."

Ratings - 1.5 stars
Mumbai Mirror: "Why Deol engaged with this project could be the Rs 1 crore question on that quiz show. At 62, the actor has little to prove and investing his skills in a film like this seems a wasted effort. Kishan is a fine casting choice for a motor-mouth tour guide with compromised morals and Tanwar manages her docile wife by mumbling verses from the Ramcharitmanas but does little to lift the dreary proceedings."

Ratings - 1.5 stars
Scroll.in: "Always dull despite the vibrancy of the city in which it plays out, Mohalla Assi tries to gain an edge by courting controversy. What is supposed to be a satire about the exploitation of religious sentiment becomes a plodding dirge about a disappearing way of life. The frequent profanity spices up things, and proves that the sacred and the profane are equally at home in one of the holiest of Indian cities."

Ratings - Not Known
Rediff: "Assi's trademark profanity occupies every sentence of the movie. But if it sounds more contrived than crude, blame it on the actors and how consciously they deliver them. There's simply no sur to their swearing.

Sunny Deol is terribly miscast as the stuck-up pandit spearheading a kar sevak rally, resisting foreigner lodgers and moaning about the declining demand for Sanskrit teachers. More parrot than priest, he appears to be reading out his lines from a teleprompter.

Amidst Mohalla Assi's space of stagey, inconsistent performances, Sakshi Tanwar brings out the insecurities and irritation of her confined authority with spark and sass.

Dwivedi's knowledge of language, clarity of thought and profound understanding of India's value system has defined his creativity.

It is most striking only when the film takes a break from its endless yak yak to question and not answer."

Ratings - 2 stars
FirstPost: "Dwivedi's satirical drama has battled production delays, opposition and threats to finally release after a seven-year struggle. Mohalla Assi is less cinema and more textual. The small things and little metaphors are more impactful than the bombastic monologues which dominate this taxing and ponderous chronicle."

Ratings - 2 stars
NDTV: "While the making of the film looks terribly dated, its central discourse is, 20 years on, undeniably more topical than ever as the pluralistic ethos of India comes under increasing strain. By veering away from that thematic line in the second half and settling for a strand that signals a tame acceptance of the centrality of religious beliefs in the lives of the people of Varanasi, Mohalla Assi loses an opportunity to be what it could have been - an important and radical Hindi film."

Ratings - 2 stars