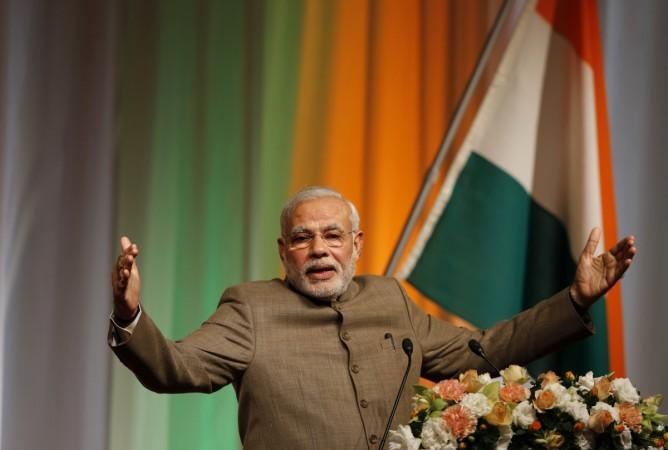 One of the biggest highlights, among many others, of Prime Minister Narendra Modi's upcoming US visit, is his speech at the iconic Madison Square Garden, slated for 28 September, when the Indian community is expected to show up in thousands to watch the newly appointed leader known for his mass appeal.
Tickets have already sold out for the 20,000-seater venue, but hundreds of people are expected to throng the New York City venue to watch the speech live on large screens outside.
In fact, the buzz around the event has forced authorities of New York and New Jersey to run extra trains on that day as they expect a rush of commuters travelling to the venue, as per reports.
Among those attending the grand event organized by the Indian American Community Foundation will be the who's who of the business and tech world as well as top academicians. The list of high-profile guests expected at the event features Microsoft head Satya Nadella, PepsiCo's Indra Nooyi, Nitin Nohria, dean of Harvard Business School, Subra Suresh, president of Carnegie Mellon University and Pradeep K Khosla, the chancellor of UC San Diego, as reported by The Economic Times.
Several other leading businessmen are expected to be present, including Shantanu Narayen of Adobe, Ajay Banga of MasterCard, Vivek Ranadive, who runs TIBCO and owns the NBA team Sacremento Kings, Kamesh Nagarajan of Morgan Stanley
Modi's itinerary reads of nearly 50 engagements in four days, the most important being a private dinner with US President Barack Obama and attending the 69th session of the United Nations General Assembly.
Modi will also meet the brim of American political leadership, from former US President Bill Clinton and former secretary of state Hillary Clinton to the Speaker of the US House of Representatives Joe Boehner.
His schedule is also packed with meetings with the top businessmen in the world, including CEOs of many Fortune 500 companies.
He is set to meet the CEOs of companies such as Carlyle Group, Cargill Group, Citigroup, Merck, Caterpillar, Warburg Pincus, Mastercard and Hospira, and in all, will engage with heads of at least 17 global corporations.
This US trip, which will be Modi's maiden, promises to be nothing short of a power-packed rendezvous with the top polictial leaders and businessmen of the world, and could hold a lot for India, in terms of business and political mileage.