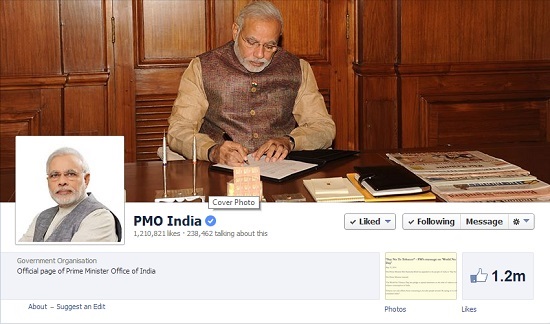 Narendra Modi, the 15th Prime Minister of India who was voted to power by the India with a roaring majority, seems to be on the path to create a record of a sorts on Facebook as well.
Modi's PMO India Facebook page has touched 1.2 million 'Likes' within five days of its launch, and Facebook says the page could soon have largest following enjoyed by any head of the state.
The official PMO India Facebook page was launched on 27 May, and has managed to surpass the one million mark in just five days. The PMO India page is now expected to outdo the White House's official page as well, which currently has 1.2 million Likes.
"We're excited that Prime Minister Modi has continued his commitment to engage with citizens through the use of Facebook. Already, over a million Indians on Facebook have engaged with the Prime Minister since the page was launched on May 27. Based on engagement and fan growth trends we expect his page becoming one of the largest for a head of state globally," DNA quoted Ankhi Das, Public Policy Director, India and South Asia for Facebook.
The PMO India page's cover photo shows the 63-yead-old Modi at work in the South Block. Modi, who is a keen social media user, is also active on Twitter. Through his Facebook and Twitter accounts, he gained much following among the Indian youth during the recent election campaign.
Modi's official Twitter handle has a following of over four million, while his Facebook page has 16 million Likes. On the Facebook PMO India page, Modi has posted several pictures of the daily routines concerning the Prime Minister's Office.
The PM's message on 'World No Tobacco Say', posted on Facebook, had gained phenomenal response, with the post receiving thousands of Likes and comments. Several users advised the PMO to increase the price of tobacco threefold, while others requested the PM to strictly ban smoking in public.
Meanwhile, the PMO Twitter handle was the first to announce that the PMO India Facebook page touched the million mark.
"The official Facebook page of the Prime Minister's Office has crossed a million likes in 4 days of being launched," PMO tweeted.
The Indian Express reported that in a recent letter to other ministries, Information and Broadcasting minister Prakash Javadekar had stressed that "Prime Minister expects all his ministerial colleagues to use the social media platform extensively to disseminate new initiatives of the government".