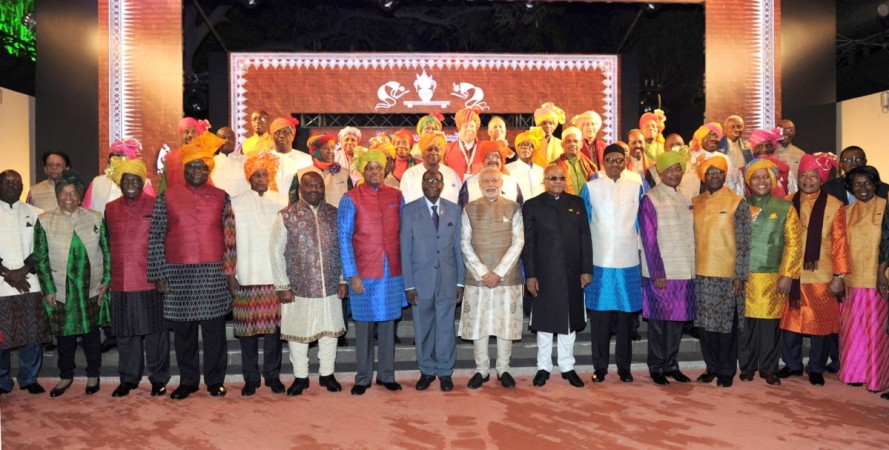 Straight after conducting the cabinet reshuffle, Prime Minister Narendra Modi will be undertaking a four-nation tour to Mozambique, South Africa, Tanzania and Kenya from July 6 to July 10. Here is the itinerary of Modi's African tour:
Mozambique
Modi, the first Indian Prime Minister to visit Mozambique in 34 years, is scheduled to land in capital city Maputo and expected to visit Mozambique parliament after meeting President Filipe Nyusi.
Indian High Commissioner to Mozambique Rudra Gaurav Shresth told the media that, in a bid to help Mozambique boost its agriculture production and India's shortage of pulses, the two sides will be signing of Memorandums of Understanding (MoUs) on government-to-government purchase of pulses.
Apart from the agriculture, food and civil sviation cooperation, deepening ties in areas of hydrocarbons, maritime security, trade and investment will also be major focus areas of Modi's visit.
In the later part of the day, he is scheduled to interact with locals who studied in India, and attend a reception organised by Indian diaspora.
South Africa
Modi will travel to South Africa on Thursday evening, and is expected to meet President Jacob Zuma and Deputy President Cyril Ramaphosa. He is expected to deliver a speech at the India-South Africa business meet in an effort to boost economic ties.
Besides visiting Constitutional Hill and the Nelson Mandela Foundation in Phoenix Settlement and Pietermaritzburg Station to symbolise commonly shared heritage between the two sides by paying tribute to historical figures such as Mahatama Gandhi and Nelson Mandela. He will also interact with the Indian diaspora through a programme in Johannesburg on July 8.
Other programmes of the prime minister in Durban include a meeting with the Alumni Network and a reception hosted by the mayor.
Tanzania
On July 10, Prime Minister Modi is scheduled to interact with Tanzanian President John Magufuli over a wide range of issues.
Later, he is also scheduled to interact with a group of rural women solar engineers from Africa known as Solar Mamas that specialise in solar lighting projects. Trained through GOI-supported programmes, they have learnt how to fabricate, install, use, repair and maintain solar lanterns in their villages.
He is also expected to interact with the Indian community in the country as well.
Kenya
Later in the evening on July 10, Modi is expected to meet with Kenyan President Uhuru Kenyatta in Nairobi to hold a discussion on how the two countries will aim to improve their bilateral ties for furthering trade, commercial and cultural exchanges between India and Kenya.
Apart for inter governmental discussions, he is also supposed to interact with local students at Nairobi University and also a meeting with Bharatwallah Alumni Association.
Where to Watch
All scheduled events of Modi can be live streamed through the official YouTube channels such as PMO India as well as Narendra Modi.
Live coverage will also be available on Narendra Modi's personal website.
You can also get all the updates about the Malaysia-Singapore visit on the official mobile app of PM Modi.