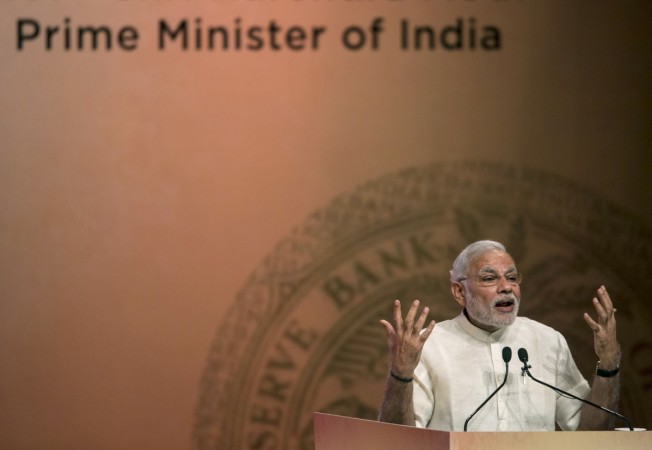 Prime Minister Narendra Modi is not someone who usually has to eat his words as other politicians are forced to after making ridiculous statements, but the Indian leader may well be forced to do that after the Twitter outburst in the form of the #ModiInsultsIndia hashtag.
PM Modi, who is wrapping up his three-nation tour to China, Mongolia and South Korea, made speeches targeting the previous UPA government, but stepped too far when he said that Indians were ashamed of being born in the country before he came to power.
"Earlier, you felt ashamed of being born Indian. Now you feel proud to represent the country. Indians abroad had all hoped for a change in government last year," Modi had said on the completion of one year since winning the 2014 elections, The Hindu reported.
The statement did not go down well with Indians, who took to Twitter with an angry hashtag #ModiInsultsIndia.
As tweets continued pouring in through the day, #ModiInsultsIndia soon became a trend worldwide on Tuesday, which is likely to bring some embarrassment to Modi.
Here are some of the tweets that show why Indians were angry about Modi's statement:
i am ashamed of u as u chose to insult india to showcase ur greatness.may b u r not the right person to represent india, #ModiInsultsIndia

— rick chakraborty (@rickfotography) May 19, 2015
We have elected a PM who travels all across the globe on our expenses to tell that we were ashamed to be born in india #ModiInsultsIndia — Parvez Alam (@Parvezalam212) May 19, 2015
I'm 18 years 7 months 34 days old & still can say of what I have seen in my life I'm proud to be an #Indian. #ModiInsultsIndia

— Parth Vadher (@imparthvadher) May 19, 2015
Suprabhatam! Always proud to be Indian. Have a great day.

— Rajdeep Sardesai (@sardesairajdeep) May 19, 2015
With due respect to PM & the NRIs in Seoul cheering him, I don't believe we were ever ashamed of being Indian at any time. Say if u disagree

— Shekhar Gupta (@ShekharGupta) May 18, 2015
Congress leaders also took to Twitter with the hashtag to hit out at Modi.
"#ModiInsultsIndia is a worldwide top trend because it has offended the sensibilities of every Indian. A national disgrace beyond description," tweeted Sanjay Jha, who is the National Spokesperson of the Congress party.
Modi, who is known to follow Twitter trends and reply promptly to them, has not yet commented on the latest trend so far, even as he tweeted messages from South Korea.
It is to be seen if Modi responds to the thousands of Twitterati that have lambasted him.
I leave with the confidence that our ties will get even better & our relationship will benefit people of our Nations.

— Narendra Modi (@narendramodi) May 19, 2015