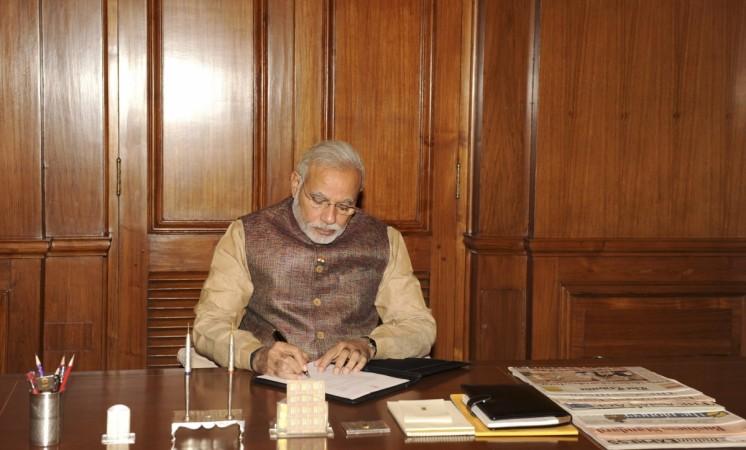 Even as the media has been bringing out report cards about Narendra Modi's performance in office as he completed one month after being sworn in on 26 May, the Prime Minister himself decided to pen down a few thoughts through a blog about his first month in office.
From commending his team and stressing on national interest to expressing the significance of the date as the day when Emergency began in 1975, Modi seems to have used the medium to write a heartfelt note.
He stressed on national interest as the main motivation behind every decision taken by the government. "Our entire team has devoted every single moment for the welfare of the people," he wrote. Modi said one of his biggest challenges was to ensure people about his intentions of bringing a "positive change in the country".
He praised his team of ministers for their work, saying that discussions with various ministers and officials have helped the government build roadmaps for the various departments.
"Over the past few days I have been meeting Ministers and Officials from various departments who have been making detailed presentations to me. I must share that these presentations have enabled a wonderful exchange of thoughts and ideas and we have come up with excellent roadmaps for the various ministries and departments," Modi wrote.
The new Prime Minister also went on to say that he has not been given the luxury of a "honeymoon period" and has had to face the toughest tests ever since he took office.
"Every new Government has something that friends in the media like to call a 'honeymoon period.' Previous governments had the luxury of extending this 'honeymoon period' upto a hundred days and even beyond. Not unexpectedly I don't have any such luxury," he wrote, stating that a series of allegations against him began in less than a hundred hours.
He then reminisced about the days during the Emergency, which began on 26 June 1975, calling it the "darkest period in our history".
"This day is also another landmark day, when in 1975 I witnessed an important phase that taught me the significance of a vibrant democracy. 26th June was the day when the Emergency started, having been imposed an evening earlier. As a youngster, I have several memories of those testing times," he wrote.
Stating that the Emergency was "a grim reminder of the dangers associated with subverting freedom of speech, press, expression and silencing opposition", Modi said that it was a day to pledge to safeguard these values. "Our democracy will not sustain if we cannot guarantee freedom of speech and expression.... (we must) create strong institutions through good governance so that we never ever see those dark days again".