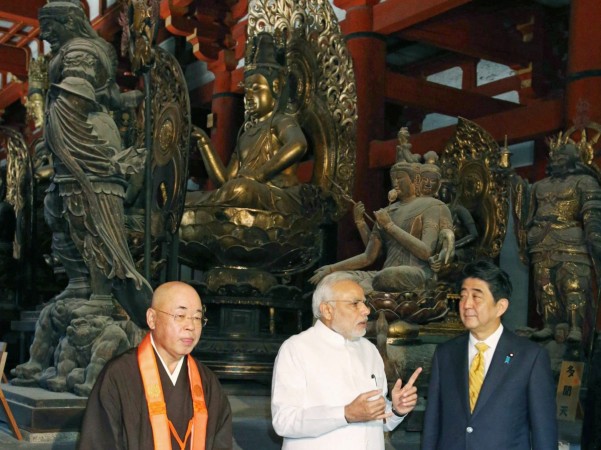 Indian Prime Minister Narendra Modi visited two famous Buddhist temples, Toji and Kinkakuji, in Kyoto, Japan on Sunday.
Modi is on a five-day visit to Japan since Saturday. The Japanese counterpart Shinzo Abe accompanied him to Toji temple.
The Indian Prime Minister offered prayers and mingled with tourists at the two temples. At the Golden Pavilion of the Kinkakuji Temple at Kyoto Modi interacted with a number of visitors who greeted him enthusiastically. He shook hands with many tourists and pampered a child by pulling his ears and posed for photographs with groups of people at the temple.
Modi was dressed in white kurta and pyjama, sleeveless jacket and white sandals during his visit to the temples on Sunday morning, heralding the message of peace.
On Sunday morning, Modi began his tour in Japan with his visit to Toji Temple, the ancient temple inspired by the trinity of Hindu gods - Brahma, Vishnu and Maheshwara. The temple is a UNESCO world heritage site. At the temple, Modi spent about half-an-hour and he enquired about the temple's history, which was built in eighth century AD.
Chief monk of the temple, Yasu Naga Mori took Modi around the temple, including the five-storeyed pagoda, standing 57 metres tall, the tallest pagoda in Japan. The pagoda can be seen from many places of Kyoto city.
While interacting with Mori, the Indian Prime Minister told him jokingly, "I am Modi, you are Mori," PTI reported.
Modi thanked Abe for accompanying him during the temple visit and spending time with him. On his part, Abe told Modi that he had visited the Toji temple only during his student days and after that this was his second visit.
Abe had come to Kyoto from Tokyo only to accompany Modi to the temple. Monk Hasi at Toji temple, who accompanied Modi said: "We are happy that the Prime Minister visited us. It is a matter of pride for our temple. He has a big heart".
A number of Indians in Japan gathered at the temple and waved tri-colour at the visiting prime minister when he arrived. Modi shook hands with the enthusiastic crowds.
According to a government report, Modi also visited CiRA - Centre for iPS Cell Research and Application at Kyoto University in Japan and interacted with Director Shinya Yamanaka. The Prime Minister expressed concern over the prevalence of sickle cell anaemia, especially among tribal communities across India.
Modi urged Yamanaka to work towards a cure for this. Yamanaka said there are currently no Indian researchers at his institute, and he would like Indian scientists to conduct research at the institute.