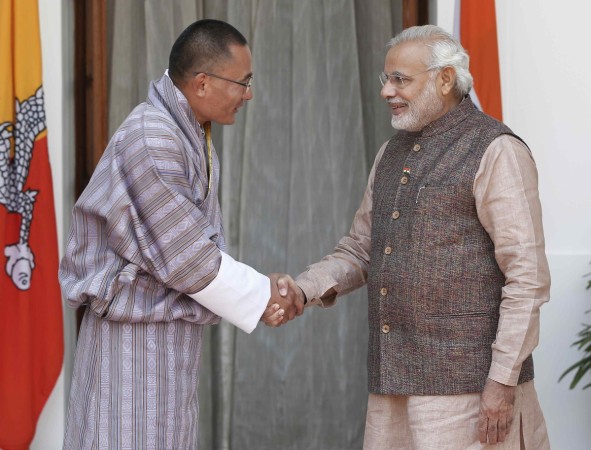 Prime Minister Narendra Modi will go on a two-day visit to Bhutan on 15 June. This is the new prime minister's first official foreign visit, since taking on the reigns of the country on 26 May.
The PM will meet with Bhutan's King Jigme Khesar Namgyel Wangchuck and Prime Minister Tshering Tobgay and is likely to discuss ways to strengthen trade and economic relations between India and her neighbour.
On his trip, Modi will address the joint session of National Assembly and National Council of Bhutan and meet the Leader of Opposition. External Affairs Minister Sushma Swaraj, National Security Adviser Ajit Doval and Foreign Secretary Sujatha Singh will also accompany Modi during the visit.
India has been involved with Bhutan since its first five-year plan in 1961 through investments, trades and hydroelectric projects (HEPs). India has been offering financial assistance to her neighbour since then, and in turn the hydroelectric project has been one of the major investments for Bhutan.
Bhutan receives the highest development package from India, which amounts to 70 per cent of the total foreign assistance. It received around ₹5,000 crore in the 10th five year plan (FYP) while the 11th FYP offered ₹4500 crore.
"Our hydropower cooperation with Bhutan is a classic example of win-win cooperation, the hydropower projects generate export revenues for Bhutan, cement our economic partnership and provide clean and low-cost electricity to India," NDTV quoted Singh, the Foreign Secretary.
There are three HEPs with capacity of producing 1416 MW, while the other three are under construction aimed to produce approx 3000 MW. According to a framework agreement signed between the two nations in April 2014, four more HEPs will be established soon, which will have a total capacity of 20120 MW.
Modi will probably also encourage Bhutan to accelerate the on-going construction process of the three HEPs for the sake of India's energy security.
Export of electricity to India plays a major role in Bhutan's economic condition and forms a major chunk of its revenues. Hence, these projects are often considered to boost ties between the two countries.
"Bhutan has the potential to generate 24,000MW of hydropower. It is in India's interests to help Bhutan develop this potential—India can improve its energy security in the long term by purchasing clean, renewable energy from a politically stable and friendly neighbour," Mint quoted South Asia expert Amit Bhandari.
Other financial assistance India offers to Bhutan for the development of the nation involves education, tourism, infrastructure, agro processing, horticulture, ICT and IT. Additionally, India also provides facilities like schools, libraries, hostel facilities for students, veterinary hospitals, irrigation channels, drinking water schemes and community centres to her neighbour.
India might also look forward to increasing the export cap of edible oil from 2400 tonnes to 13000 tonnes, as requested by Bhutan.
In a free trade regime according to the India-Bhutan friendship treaty of 2007, India offers major trade to Bhutan, becoming its leading trade partner. During 2012, imports from Bhutan amounted to ₹41.8 billion, while exports made up to ₹27.8 billion, which was 94 percent of the total exports made by Bhutan.