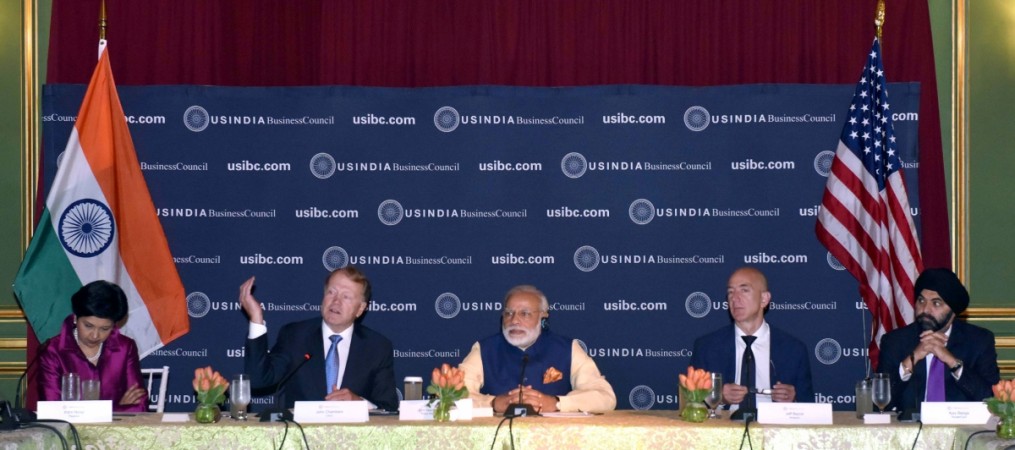 Prime Minister Narendra Modi made a strong sales pitch to American CEOs while addressing the U.S. India Business Council (USIBC) on Tuesday and assured them of more measures to improve ease of doing business in India. On their part, USIBC members said they will invest an additional $45 billion in the next couple of years.
Buoyed by the recent data that showed the Indian economy grew at 7.9 percent in the March 2016 quarter, Modi said that the country is positioned to drive growth and offers a lot to potential investors looking at India.
"India is poised to contribute as a new engine of global growth...we are encouraging foreign and domestic investors to set up high quality and efficient manufacturing facilities," he said during his address at the USIBC CEO round-table in Washington on Tuesday.
"We will continue to make progress on improving the investment climate and ease of doing business," he added.
The USIBC said that its members are bullish on India and will be investing much more than the $41 billion investment they had planned during Modi's first visit to the U.S. after assuming office.
"In September 2014, USIBC member companies indicated an investment number of $41 billion that was likely to be invested by members over a 2-3 year time period. Today, I am happy to announce that in less than two years, about 20 percent of USIBC member companies have already invested $28 billion," USIBC Chairman John Chambers said after the round-table, reported BusinessWire.
"Over the next 2-3 years, we see this pace accelerating, again with about 20 percent of our member companies reporting, indicating that USIBC members are on track to invest an additional $45 billion, which is a conservative estimate," he added.
The USIBC also honoured Jeff Bezos, founder and CEO of Amazon and Dilip Shanghvi, founder and managing director of Sun Pharmaceuticals at the event for their "contribution" to "integrate India" into the global economy.
Bezos said that his company would be investing $3 billion in India, taking its cumulative India investment to $5 billion.