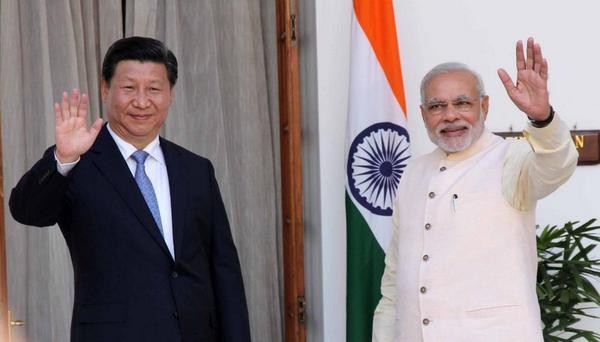 Prime Minister Narendra Modi raked up sensitive issues of border incursions and China's visa policy during the meet with Chinese President Xi Jinping on Thursday, on a day when the border saw an intense face-off between Chinese and Indian troops.
Calling for a clarification on the Line of Actual Control, Modi said that the border issue should be resolved immediately.
"I have expressed concern over the border issues and have asked for a resolution. We both agree that peace at the border is necessary for the two nations. We must resolve the boundary question as soon as possible," Modi said while addressing the media after the bilateral talks in New Delhi.
"I have asked the Chinese President to work towards the clarification of the LAC. This process was stalled for several years and it must be revived," Modi said.
Suggested clarification of Line of Actual Control would greatly contribute to our efforts to maintain peace & tranquility - @PMOIndia

— Syed Akbaruddin (@MEAIndia) September 18, 2014
India and China have had historical problems over claims of territories, along the border, with China claiming a large part of Indian territory, including the state of Arunachal Pradesh as its own. However, Jinping did not seem to take the border issue as seriously, stating that 'certain incidents' occur sometimes, but there has been 'peace and tranquility' in the border region.
"The boundary issue is a problem which has troubled both sides for long. The China-India border areas have maintained peace and tranquility. As the area is yet to be demarcated, there may be some incidents that occur," Jinping said. Modi also took up the issue of China's visa policy, which has irked Indian authorities on several occasions. "I have expressed my concerns over China's visa policy, because I feel that if such incidents can be resolved, our relations will reach new levels," Modi said.
Discussed India's concerns relating to China's visa policy & Trans Border Rivers. Early resolution would enhance mutual trust - @PMOIndia — Syed Akbaruddin (@MEAIndia) September 18, 2014
However, apart from border issues, several key investments were discussed between the two leaders, and in all, 12 key agreements were signed on Thursday, in addition to the 3 MOUs signed on Wednesday.
Here's what India will get
India and China signed 12 key agreements, having already signed three MoUs on Wednesday in Ahmedabad to develop industrial parks in Gujarat and Maharashtra.
China has committed investments of $20 billion in India over a period of five years
The two nations are also set to start talks for civil nuclear energy cooperation.
A new route will be set up for the Kailash Mansarovar Yatra that will make the pilgrimage accessible by motorable road, thus giving a safer alternative.
Shanghai and Mumbai will be developed as twin cities, and investments will be made in Mumbai to match it to Shanghai's development.
The two nations will work on cooperation in railways and infrastructure, with China investing in developing industrial parks in Maharashtra and Gujarat.