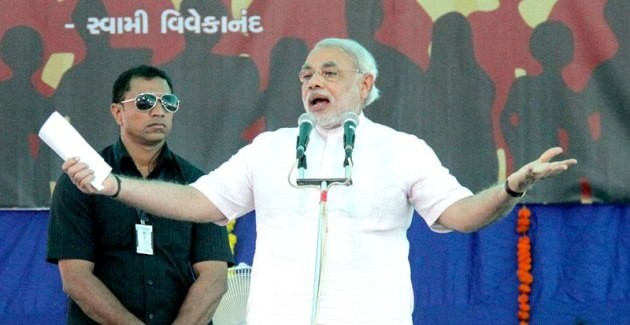 Gujarat chief minister Narendra Modi slammed the Congress-led UPA government for its inaction in developing the nation, on the last day of BJP's National Council meeting held in New Delhi.
Speaking at the meeting, Modi lashed out at the Nehru-Gandhi family and also called Prime Minister Manmohan Singh as a "night watchman."
"Sacrificing the national interest for the interest of one family is the tradition of the Congress," Modi said as a 2000-strong gathering cheered him with their applause, according to NDTV.
"They appointed a night watchman by naming Manmohan Singh as prime minister...the prime minister is nothing but a puppet of the Gandhi family," the chief minister said.
Modi was scheduled to address the gathering about Gujarat's achievements, but he began speaking about national issues and hit out at the Congress party.
Taking a dig at Congress over numerous scams including VVIP helicopter deal, 2G spectrum and inflation, Modi said that the party is destroying the country as termites. "The Congress has spread like termites in the country; it is very difficult to get rid of termites. Only one medicine would work, and that is the sweat of the worker of the BJP," Modi said.
He also alleged that the congress is sacrificing the interest of the nation for the sake of one family. While he criticized Manmohan Singh, he also affirmed that Pranab Mukherjee would have been a better prime minister than Singh. But the Congress chose Singh because "they realized that if Pranab Mukherjee is successful then what will happen to the (Gandhi) family," he said.
Modi also drew a comparison between BJP and Congress saying that the former is for a mission and the latter is for commission. Downplaying the issue of who will be BJP's prime ministerial candidate, Modi said it does not matter for the party.
The chief minister, who is expected to get inducted into the parliamentary board of the party, urged his party workers to be battle-ready and work tirelessly to bring the BJP to power.