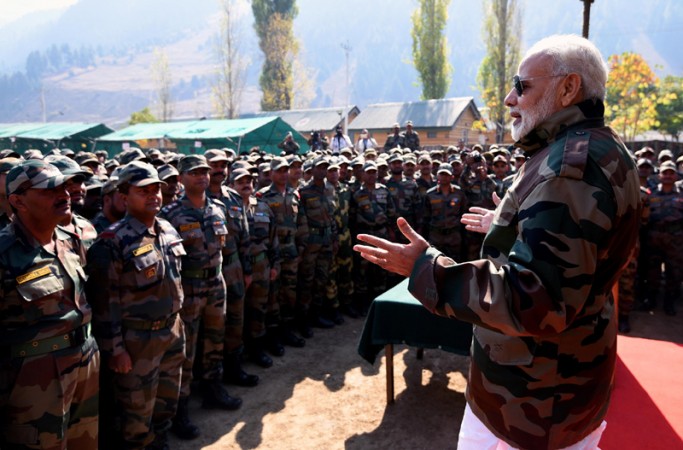 Prime Minister Narendra Modi on Sunday, October 29, slammed the Congress for "shamelessly speaking the language of separatists in Kashmir."
"For the sake of Jammu and Kashmir, thousands of Indian soldiers have sacrificed their lives. And yesterday, they (Congress) were seen joining voices with those who want 'azadi'," the prime minister said in Bengaluru on Sunday, referring to a controversial statement made by Congress veteran, P Chidambaram.
Chidambaram on Saturday had raised doubts over the government's decision to appointment of an interlocutor for Jammu and Kashmir. He termed it a "diversionary" tactic and felt that by raising "Azadi" demand, the Kashmiri people were demanding autonomy which should be considered seriously.
"I think we should seriously examine that question and consider on what areas we can give autonomy to" Chidambaram had said.
PM Modi didn't mince words in his criticism of the Congress, "It is an insult to our soldiers. The Congress was shameless in saying so."
Modi took a dig at the Congress and wondered whether India could benefit from such people, who tend to disrespect the Army and its services.
Recalling the surgical strikes and the controversial statements made over it last year by the Congress, Modi said "Our country cannot progress under the people who are doing politics over the sacrifice of our soldiers. From their yesterday's statement, I can understand why they (the Congress) had a problem with surgical strikes."
Under criticism from the BJP, the Congress on Sunday distanced itself from Chidambaram's statement.
Senior Congress leader Surjewala said, "Opinion of an individual is not necessarily the opinion of the party."
"While individuals may have different personal opinions, Congress believes that the solution for lasting peace and prosperity in Jammu and Kashmir lies solely within the framework of Constitution," the IANS quoted Surjewala as saying.
Meanwhile Finance Minister, Arun Jaitley was quoted by the news agency saying, "The position Congress has taken with regard to 'Azadi' or autonomy to be given to Jammu and Kashmir, goes directly contrary to India's national interest."
"It's a serious issue whether statement that has come from a prominent Congress leader is Congress' official stand or not?" said Jaitley.
Reacting to PM Modi's criticism, Surjewala said, "Forty-one months of NDA-BJP regime has seen the situation deteriorate rapidly with terrorism on the rise, border ceasefire violations at an all-time high and our security forces valiantly fighting the onslaught of Pakistan-sponsored terrorism on a daily basis."
"Congress has always worked towards providing equal development, equal financial allocation and equal opportunities to the three regions of state of Jammu and Kashmir," the senior Congress leader added.