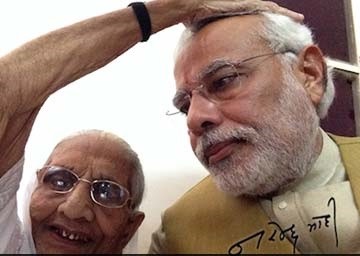 The soon-to-be Prime Minister Narendra Modi, the man who gave Bharatiya Janata Party one of its biggest wins ever, tweeted a selfie with his mother this afternoon that has now gone viral.
Even before noon, it became clear that Modi is headed for a landslide win. And the leader, who will now be India's 15th Prime Minister, made his way to his mother's house to seek her blessings.
Modi, 63, visited his mother Hiraben at her house in Gandhinagar, where he sought her blessings and advice. During the meet, Modi took a selfie with his mother that he later posted on Twitter and Facebook.
In India, it is a valued and auspicious practice to seek the blessings of one's elders before starting a new endeavor; in Modi's case, taking up the leadership of the country.
The autographed selfie with his mother has now gone viral and is fast reaching the million mark on Facebook 'Likes'.
The photograph received over 8,14,231 likes within six hours of it being posted and is expected to cross the million mark within hours. It is estimated that every hour at least 10,000 people were 'liking' the Modi selfie.
Before her son visited her on Friday, Hiraben, 95, was seen praying. She told reporters: "He has my blessings and he will lead the country towards development."
Hiraben has figured several times in the speeches of the soon-to-be Prime Minister of India. Modi being the son of a lower caste tea seller, stories of Hiraben working as a maid in neighbouring houses is widely known.