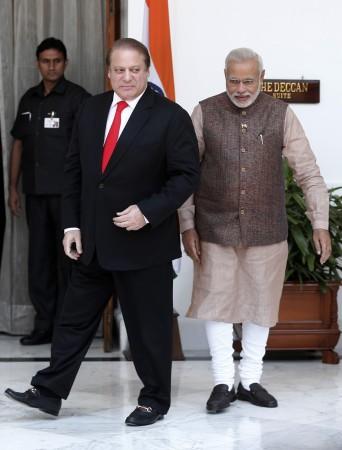 Prime Minister Narendra Modi lashed out at Pakistan during his address in Leh on Tuesday, stating that it was continuing its "proxy war of terrorism".
Modi, who is on his maiden trip to Leh and Ladakh, became the first Prime Minister to visit Kargil after the 1999 war. Departing from his soft stance against Pakistan since he came to power, Modi condemned the country's inability to check terrorism and stated it lost its ability to fight a "conventional war".
"The neighbouring country has lost the strength to fight a conventional war, but continues to engage in the proxy war of terrorism," the PM said, adding that more Indian armed forces have been succumbing to acts of terror than war.
This is Modi's first aggresive stand against Pakistan, after he was sworn in as Prime Minister in May, when he had invited Pakistan Prime Minister Nawaz Sharif. While the two engaged in a much-hailed regional diplomacy, Pakistan has failed to keep a check on its cross-border violations and the increasing terrorism that stands to be a direct threat to India.
While Modi was seen as scathing in his views about Pakistan before coming to power, he was accused of going soft after becoming the Prime Minister, especially from the Opposition.
Citing terrorism as a "global problem", Modi said: "India is committed to strengthening and uniting humanitarian forces from different parts of the world to fight terrorism".
Addressing troops of the Indian Army and the Indian Air Force, Modi assured that his government was committed to modernization and welfare of the armed forces and to make the country self-reliant in defence manufacturing.
Modi Promises Development in Jammu and Kashmir ahead of Polls
Modi also promised development to the state of Jammu and Kashmir, probably keeping in mind the upcoming polls, particularly with the ruling alliance of the Congress and the National Conference split up.
The PM reiterated his government's allocation of ₹8,000 crore for the dveelopment of Kashmir. Modi said Leh would be the focus of solar energy initiatives, as he laid the foundation stone for a hydel power project there.