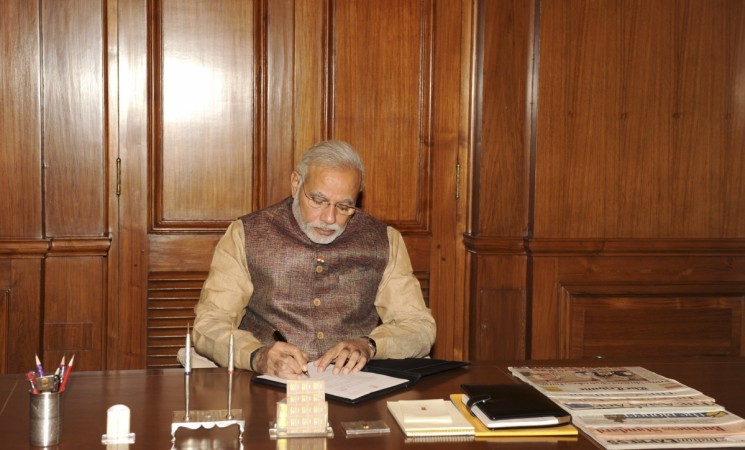 Prime Minister Narendra Modi on Thursday, 29 May, resigned from his Vadodara Lok Sabha seat in Gujarat and retained Varanasi seat in Uttar Pradesh. In the last general election, Modi won both the seats with vast majority.
Modi won the Vadodara seat in his home state Gujarat against Madhusudan Mistry of Congress by a record margin of 5 lakh votes. He won Varanasi seat, where he defeated Arvind Kejriwal of Aam Aadmi Party (AAP) and Ajai Rai of Congress. The high-profile contest was watched keenly by India.
The ruling Bharatiya Janata Party (BJP) had fielded Modi from Varanasi seat and senior BJP leader Murli Manohar Joshi moved to Lucknow from Varanasi to pave way for the party's prime ministerial candidate. As expected by the party, Modi won Varanasi seat by a spectacular margin.
Now, as Vadodara seat has been vacated by Modi, it is speculated that Amit Shah, Modi's close aide, would contest from the seat.
Shah is said to be instrumental in the party's impressive win in Uttar Pradesh and now he is likely to play a bigger role in Delhi. For this, Shah will have to be elected to the Lok Sabha. Hence, he is likely to be asked to resign from his membership in Gujarat Assembly and contest Lok Sabha by-election in Vadodara. Presently, Shah is the MLA from Naranpura in Gujarat.
He is expected to win Vadodara seat easily with the support of Modi.
During the recent Lok Sabha elections, Shah was BJP's in-charge of Uttar Pradesh and strived to win 71 seats for the party out of the total 80 seats in the state. BJP won a total of 93 seats in Hindi-speaking states -Uttar Pradesh and Bihar.
In Bihar, BJP won 22 out of 40 Lok Sabha seats and such a huge majority in the two states helped BJP to win 282 majority seats in the 543-member Lok Sabha.
Shah is likely to be entrusted with the election duty in Maharashtra, where the State Assembly elections are due in October. Congress-NCP (Nationalist Congress Party) coalition is currently in power in Maharashtra.
Rumour has it that Shah has chief ministerial ambitions, but Modi is reportedly keen to see the present Chief Minister of Gujarat, Anandiben completing her tenure. Hence Shah, who is the general secretary of BJP, is likely to be asked by the party to take his role in the party at the national-level.
Sources in BJP say that Shah, as a close assistant to Modi, is going to play a bigger role in the party's organizational affairs as the party's president Rajnath Singh has become the Home Minister at the Centre.